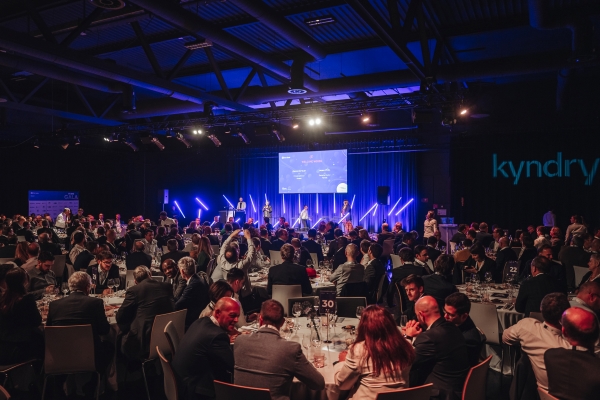 Credit: IT One Gala
On Wednesday 16 November 2022, during the the sixteenth edition the IT One Gala taking place at the LuxExpo the Box in Luxembourg-Kirchberg, the winnders of the Luxembourg ICT Awards 2022 were announced.
This year, the award ceremony featured nine categories, of which each award aimed to promote and honour the best practices and the best solutions on the market provided at national level.
The winners are:
Arnaud Clément of BGL BNP CIO Wealth Management received the CIO of the Year award. Christian Kettmann, CIO, CFL and winner of the 2021 edition presented the award.
LuxProvide received the ICT Business Partner of the Year award for its leading-edge technologies to accelerate economic and social progress through enabling tech-driven companies.
POST Telecom received the Telecom Innovation of the Year award for its "DigiWald" project. POST – in partnership with Waldbillig – deployed 5G Fixed Access Points in citizens' houses to cope with the lack of fiber and offer fiber-like broadband services.
Devoteam received the Most Innovative ICT Training Programme award for the launch of its new academy "Your Journey to the Cloud".
WEO SAS received the Best Use of AI & Data award for its use of data from space and AI to tackle major environmental challenges (water resource management, growing urban forests, preparing for natural disasters, etc.).
Rsecure received the Young ICT Revelation of the Year award for helping SMEs to protect themselves from cyber risks, notably the Rsecure's smart box EGIDE to manage the entire IT infrastructure.
Government IT Centre (Centre des technologies de l'information de l'État - CTIE) received the Digital Transformation Project of the Year award for the realisation of the pilot project in the context of the digitalisation of student loans, the three public actors, i.e. the Ministry of Higher Education and Research (MESR), the Ministry for Digitalisation and the Government IT Centre (CTIE), have joined forces with Spuerkeess.
Finologee received the ICT Outsourcing Services Provider of the Year for building the new generation infrastructure for outsourcing and managed services operations for financial industry players in Luxembourg.
The distinguished Inspirational ICT Personality of the Year award was given to Mohamed Ourdane this year – POST Luxembourg Head of Cybersecurity department – for his passion, contribution and resilience in always taking up any challenges. The jury took a point of honour to acknowledge this underrated talent.