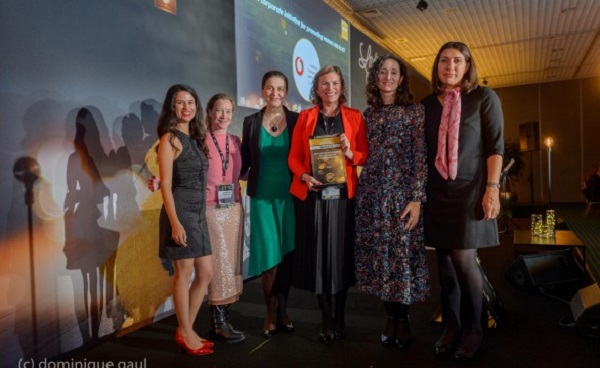 Credit: Dominique Gaul
On Tuesday evening, over 300 ICT and technology professionals gathered at the Alvisse Parc Hotel in Dommeldange to attend the first IT Ladies Night organised in Luxembourg.
Following a conference with speeches and messages delivered by keynote speakers, local experts were recognised through the Luxembourg Women ICT Awards.
Kamel Amroune, CEO of Farvest Group, officially opened the ceremony by awarding the Group's marketing and customer care team, Charlotte Boutelier, Sidonie Stire and Julie Bodin, with a "Great Women to Work With" award. Sabrina Lemaire then took the microphone as she stepped into her role as Master of Ceremony.
Kenza Bouzouraa, Deputy Director of ELGON/AINOS, received the first prize of the night: "ICT Business Developer of the Year", sponsored by Huxley. Ms Bouzouraa notably managed the migration of the CGIE IT helpdesk and all students in Luxembourg to Office 365. She was also was responsible for the development and launch of MyDPRights in the area of data protection.
Angela Nickel, CEO and Founder of COMO, was named "ICT Entrepreneur of the Year" for her efforts in bringing customers and partners into the unknown, from the traditional financial world to the digital economy. In 2019, she finalised the implementation of the COMO Engine, which offers end-to-end support and synchronises all payment transaction combinations for Mobility-as-a-Service (One-to-Many, Many-to-One, Many-to-Many).
Anne-Sophie Morvan, Business Development Manager at LUXHUB, received the "Young ICT Talent of the Year" award, supported by Docler Holding. Ms Morvan decided to join the RegTech / FinTech industry after five years of dealing with IT contracts and data protection regulation. She is now in charge of the business part of LUXHUB's Marketplace project. Her missions involve defining the product's business strategy, working with IT teams and identifying and selecting application programming interface (API) providers.
The jury members also underlined the quality of Avanti Sharma's work over the past year, which earned her a special "Coup de Coeur" prize. The 13 year-old has already participated in several coding and IT challenges. She also runs weekend workshops on coding for children aged 6 to 16.
For her part, Nathalie Knops, Head of Business Transformation at Banque Internationale à Luxembourg (BIL), was named "Technology Expert of the Year". After strengthening its partnerships with FinTechs and startups, BIL was able to deliver new budgeting capabilities on its mobile application and CX and UX measurement capabilities. Ms Knops' team also developed new features on BILnet using a new development framework, micro-services and even some machine learning capabilities.
Finally, the "Best Corporate Initiative for Promoting Women Role in ICT" award, supported by WIDE, went to Vodafone Foundation Luxembourg. Jury members notably underlined the fact that the company aims to inspire young girls and women from lower socio-economic backgrounds to pursue careers in the field of ICT. Vodafone Foundation also organised an "Innovation Day" at St. George's School, the first of its kind in Luxembourg, to inspire students and inform them about innovation and technology.
The jury was composed of twelve experienced ICT experts: Larissa Best, Director of Equilibre; Marina Andrieu, Co-founder and Director of WIDE; Anne Majerus, Technical and Economic Advisor at the Chambre des Métiers; Edith Magyarics, CEO of Victor Buck Services; Marie-Louise Ashworth, Director of The Network; Marina Guerin-Jabbour, Head of Luxembourg Digital Innovation Hub at Luxinnovation; Olivier Beaujean, CIO of IEE; Hocine Berrane, CIO of CALI Europe; Jean-Marc Verdure, CIO of CREOS; Bernard Lhermitte, CIO of ING Luxembourg; Yves Baguet, COO of BIL; Gérard Hoffmann, President of Fedil-ICT.