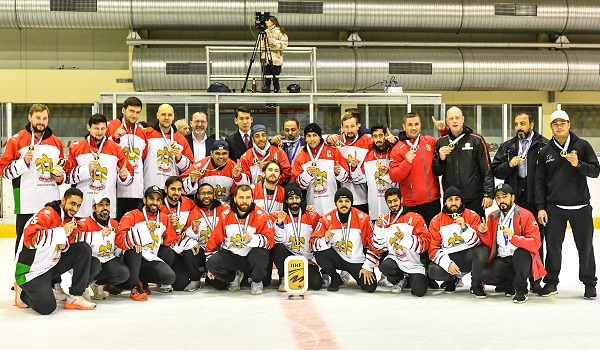 Winners: United Arab Emirates; Credit: Val Wagner
On the evening of Friday 8 April 2022, Luxembourg's national men's ice hockey team faced Chinese Taipei in the final game of the International Ice Hockey Federation (IIHF) World Championship Division III – Group A at Patinoire Kockelscheuer.
After losing their previous game (on Thursday evening) 1-8 to the United Arab Emirates (UAE), the hosts failed to overcome Chinese Taipei in the closing game of the tournament.
Just over six minutes into the first period, Luxembourg scored the opening goal courtesy of good stick work and team work from No. 16 Forward Claude Mossong, No.11 Forward Kristian Potucek and No. 6 Forward Olivier Biver. Chinese Taipei kept the hosts on their toes, however, and equalised with just under nine minutes left. The first period thus ended 1-1.
After an initially goalless second period, Chinese Taipei scored their second "power play" goal in the last seven minutes, followed by a third goal with just over two minutes remaining.
Less than four minutes into the third and final period, Chinese Taipei extended their lead to 4-1. Luxembourg managed to score their second goal of the game in the final seven minutes, to the palpable joy of spectators, followed by a third goal courtesy of No. 7 Forward Sacha Backes with just six seconds left. However, Chinese Taipei shot their fifth goal into an empty net with a little over one second remaining on the clock, bringing the final score to 5-3. This marked Chinese Taipei's first (and last) win of the tournament.
The most valuable players (MVPs) were No. 20 Goalie Philippe Lepage for Luxembourg and No. 4 C E Sang for Chinese Taipei. The latter was also named team player of the tournament for Chinese Taipei; No. 9 Forward Colm Cannon received this title for Luxembourg.
Final Standings
1. United Arab Emirates, 12 points
2. Turkey, 9 points
3. Turkmenistan, 4 points
4. Chinese Taipei, 3 points
5. Luxembourg, 2 points
The UAE, who won all four of their games in Luxembourg, won the Division III men's World Championship for the first time since they began competing in 2010. They also earned promotion to Division II – Group B for 2023. It remains to be seen whether or not Luxembourg, as the last of the five teams, will be relegated.
The final game at Patinoire Kockelscheuer was followed by the award ceremony, during which the UAE, Turkey and Turkmenistan teams received their medals. Luxembourg's Minister of Sport, Georges Engel, was present, among others. Approximately 700 people attended the closing game.