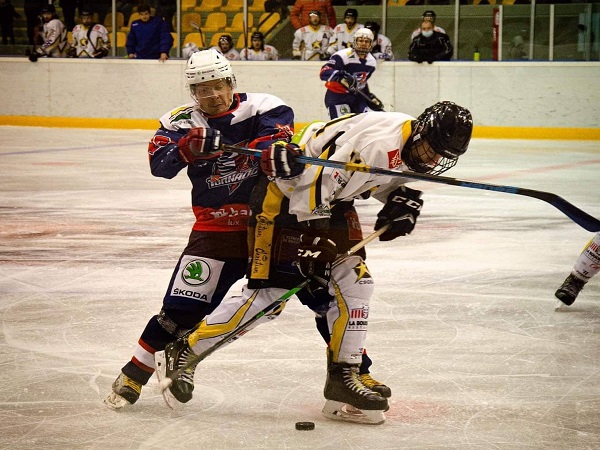 Credit: Tornado Luxembourg
After last season ended in an unforeseen fashion half-way through the FFHG Division 3 playoffs due to the COVID-19 pandemic, Tornado Luxembourg finally hit the ice again to kick off the 2020-21 season against Étoile Noire de Strasbourg II.
Despite a solid performance from all lines and plenty of saves by starting goaltender Phil Lepage, the visiting team from Strasbourg managed to win its first away game of the season with a final score of 3-4. Around 250 spectators showed up at Patinoire de Kockelscheuer to watch the game.
Coach Petr Fical and his team started practising again at the beginning of September but due to the ongoing pandemic, no pre-season matches could be played before entering the competition in Group C (northeast of France) of the FFHG Division 3. Nevertheless, the Tornado team worked hard in the weeks leading up to the very first game of the season. With four lines of forwards and three pairs of defensemen selected for the season opener, Coach Fical made sure to have enough players ready to play fast and with high intensity for a full 60 minutes.
Whilst the home team began the game with great focus, opponent Étoile Noire de Strasbourg II scored the first goal of the game after only 03:55 minutes. Tornado managed to quickly shake off the goal and started to increasingly take control of what was happening on the ice. After his 2019-2020 season ended early due to a knee injury, Finnish winger Henri Öörni showed how much he had missed hockey by tying the game halfway through the first period (10:29 min).
Antoine Thomas, who joined the team this season from Red Dogs d'Amnéville (FFHG Division 2), gave Tornado the lead in the second period after 21:22 minutes of play. Assisted by a pass from Jonas Mullo, the French centreman scored in style on a breakaway.
Fellow Frenchman Adrien Maurer, who had played with Thomas in Amnéville before, got the 3-1 go-ahead goal for Tornado only a few minutes later (24:29 minutes). Using his speed, Maurer walked around Strasbourg's defence and beat the goaltender with a nifty move to his backhand.
Shortly before heading into the second intermission, Étoile Noire de Strasbourg II scored with a shot from the blue line, cutting Tornado's lead down to one.
After leading 3-2, Tornado did not manage to further convert on its numerous scoring chances and gave up two more goals in the final period. After tying the game (51:28 minutes), the visiting team from Strasbourg scored the winning goal with a little over two minutes of playing time left. It was again a shot from the blue line that got deflected right in front of Phil Lepage's crease so that Étoile Noire de Strasbourg II could celebrate the victory and take home three points.
Despite the loss, Coach Fical saw a promising performance by his players that can be built upon. With a big roster consisting of veteran players and talented youngsters, he has plenty of options to choose from each game to make sure the 2020-21 season will be another successful one for Tornado and its fans.

The next chance to get the first points of the season is this weekend (Saturday 10 October 2020) when Tornado travels to Annecy to play against Chevaliers du Lac II.