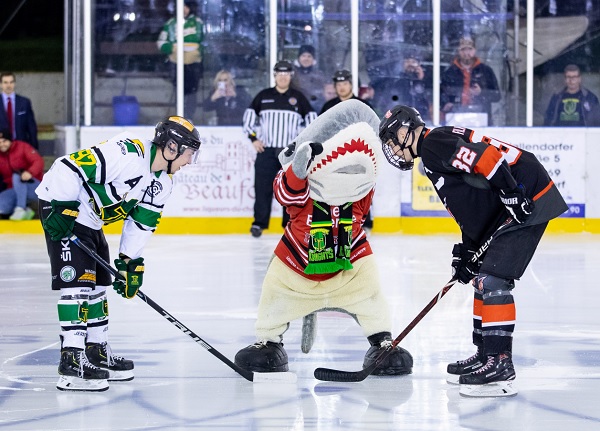 Credit: Liam McEvoy
On Saturday, Luxembourg ice hockey team, the Beaufort Knights, lost their second home game of the 2019/20 ice hockey season 8-9 against Belgian opponents, the Mechelen Golden Sharks.
Despite an early 2-0 start for the Beaufort Knights, a goal from Mechelen forward Stefaan Swennen and a series of penalties saw Luxembourg's opponents take the lead. The first period ended Beaufort 2-3 Mechelen.
Two more penalties early in the second period saw the Golden Sharks take a 4-2 lead. Despite goals from the Knights' Sacha Backes, the second period ended 5-6 to Mechelen.
During the intermission, the some 500 spectators gathered in Beaufort Ice Park were treated to an on-ice break dance routine from German professional hockey team Kölner Haie's mascot "Sharky", dressed in a shark costume.
The third period saw the Knights' Chris Meyers push the puck past the Sharks' goalie and even the score at 6-6. Not long after, the score was 7-7, following a brief lead for the Luxembourg team. A tense 8-8 draw followed before Arvo Lahti scored the winning goal for the Golden Sharks.
Despite the loss, the Knights have maintained their 7-game point streak dating back to November 2019. This leaves them in fourth position in the table with six games to go. Next up for the Knights is a visit from the league's top scorer Martin Davidek and his Charleroi Red Roosters on Saturday 8 February 2020 at 19:30. The Knights previously won the away match 3-1.