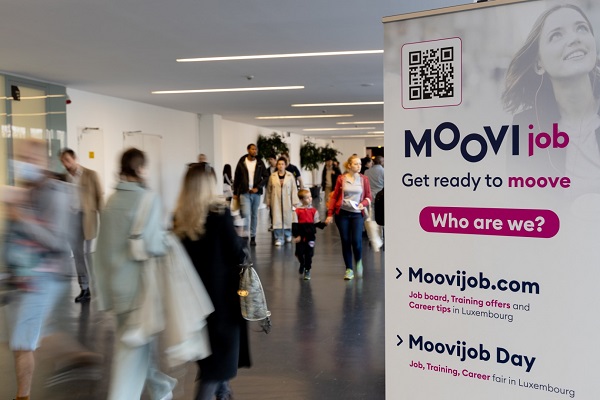 Moovijob Luxexpo; Credit: M Brumat
The thirteenth edition of the Moovijob Day Luxembourg fair will take place at Luxexpo The Box in Luxembourg-Kirchberg on Friday 24 March 2023 from 09:30 to 17:00.
200 companies - a record number according to the organisers - will be present at the job fair to recruit and offer advice on employment in Luxembourg. During free conferences, six companies will offer advice, present available jobs and their company values.
This will also be an opportunity to learn more about current topics related to the job market, such as the evolution of temporary work in Luxembourg by Sofitex and the question "Is Luxembourg still an El Dorado to attract talents?" by PwC.
A diverse array of sectors will be represented at the job fair: sales and retail, finance, public service, training, Horesca, industry, construction, transport, IT, health, care and social.
This year, according to the job fair organisers, employers are going to great lengths to make the employment process enjoyable and attractive for prospective jobseekers. Visitors will be able to explore their potential future job using virtual reality, be served popcorn by their potential future HR manager or have an interview inside a car. Nevertheless, candidates are expected to have some basic knowledge about the company in order to proceed to the next stage of recruitment.

The fair is free and open to all.