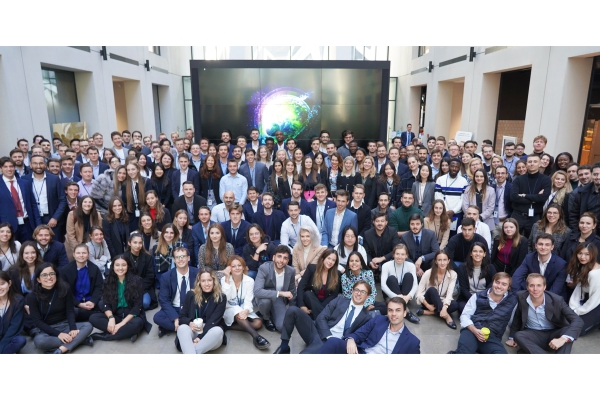 Credit: Deloitte Luxembourg
On Tuesday 11 October 2022, around 300 young professionals joined Deloitte Luxembourg for its annual induction programme.
Throughout October, the junior profiles from 28 different nationalities will experience team-building activities, networking events and trainings to get to know the corporate culture and the firm's strategy and values.
"Every year, it is great to see so many bright young professionals join our firm and enrich our talent pool with fresh energy and skills. It is important for us that they feel fully integrated and part of a unique journey that empowers them to thrive and grow both professionally and personally," said Stephan Tilquin, Partner and Talent leader at Deloitte Luxembourg.
This year, the induction also included the metaverse. Innovation Director Fateh Amroune's avatar reached out to the new recruits digitally to present the latest innovation initiatives of Deloitte Luxembourg.
The kick-off event in the DSquare auditorium also included interactive presentations by Managing Partner John Psaila, Talent leader Stephan Tilquin, Sustainability leader Francesca Messini and Diversity and Inclusion leader Christian van Dartel.
"Addressing the multiple challenges our clients face and building a better future requires fresh perspectives and new talent. These brilliant young professionals will accelerate our ambition to grow and reach higher – while fuelling positive change for our clients, our communities, and our planet. Every year, I feel privileged to engage with our new generations and sense the great promise that our future holds," said John Psaila.
With these new recruits, Deloitte Luxembourg counts around 2,500 employees in Advisory & Consulting, Audit & Assurance, Tax and Operating Services.