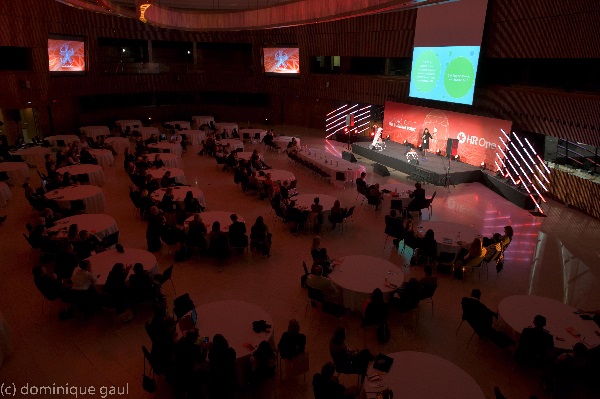 HR One Gala; Credit: Dominique Gaul
This year's HR One event, organised by Farvest, will be taking place in Luxembourg on Tuesday 26 November 2019.
Now in its 16th year, this annual summit tailored for the human resources (HR) community, features an "HR Lab", a unique human resources hackathon to rethink the sector's main issues and foster innovation, as well as the traditional HR Gala One and a prestigious dinner with 500 HR professionals.
The HR One Gala will be held this year on the occasion of the Human Capital Summit; a new meeting place for human resources professionals, as well as mobility and health (coming next year), which will address issues related to human factor-related businesses.
As is tradition, the best initiatives, projects and HR teams will then be rewarded with the presentation of the Luxembourg HR Awards.
The application process for these awards combines a written submission and a pitch session for the three finalists in each category. The eight awards are as follows:
• People Experience Award
• HR Digital Transformation Award
• Onboarding Excellence Award
• Employer Brand of the Year
• Talent & Competence Management Award
• Income & Reward Strategy Award
• HR Manager of the Year
• CRS Initiative of the year
Those wishing to apply for a specific award can obtain an application form via e-mail: team@hrone.lu. The application process is free and the deadline for submissions is 23 October 2019. The three selected finalists are then asked to send an ambassador to highlight the project/experience of the company and to pitch at the HR One Gala.