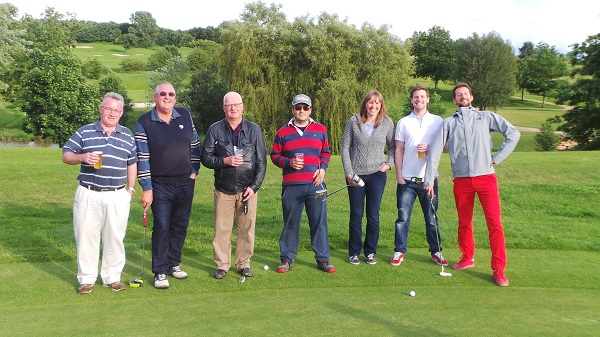 "Is it raining, I hadn't noticed" - this could have been the motto of the day on Saturday 18 June 2016 as 136 players plied their trade against the elements at the 2016 Kick Cancer into Touch golf tournament.
On the day €7,000 was raised through the support and efforts of the players and helpers, not bad for a round of golf and a few beers.
The Des Mckenna Memorial cup was deservedly won by Craig Ferreira a regular since the start of the tournament, awarded by Phil McKenna who flew especially over from his retirement in Ireland.
The putting competition was, again, won by the committed Torben Fridberg who is now becoming a feature of the golf day itself with his colourful trouser selection. He won the star prize supplied by Mazagan Beach Resort and Ascot Golf of a 3-night all-golf-included trip to Morocco.
Jane Shepard was awarded the McKinley award for her support and work for KCIT, well deserved and means she has to come back to help next year to return the cup! And the event would not have been possible without the support of a large number of volunteers, including the mini-helpers who through cakes and smiles raised over €200.
Behind the scenes and behind the bar the Hughes family, the Kaisers and the Sneyds helped the conversation and beer flow all afternoon, whilst Zumba sessions took place all afternoon.
Other sponsors included Italian Golf Society, KR Recruitment, KPMG, Gentoo, the Black stuff, The Brittania, the Mecure hotel, Golfaholics, Frogs Golf society, Kikuoka golf and country club and Cargolux Golf society.
Results
Net men hcp pro to 12,5
1st Craig Ferreira 39 points
2nd Marc Toussaint 37 points
3rd Jonathan Hill 36 points
Net men 12.6 to 22.4
1st Pablo Bulcke 39 points
2nd Frank Mc Cormack 37 points
3rd Patrick Drennan 37 points
Net men hcp 22.5 to ---
1st Louis Mulder 37 points
2nd Jean-Paul Beck 37 points
3rd Antonio Giardina 34 points
Net Ladies hcp pro to 23.4
1st Sandrine Clesse 39 points
2nd Petra Smeets 36 points
3rd Carine Trierweiler 34 points
Net Ladies hcp 23.5 to ---
1st Beatrice Querol Alberola 38 points
2nd Susan Morris 38 points
3rd Anne Monaco. 38 points