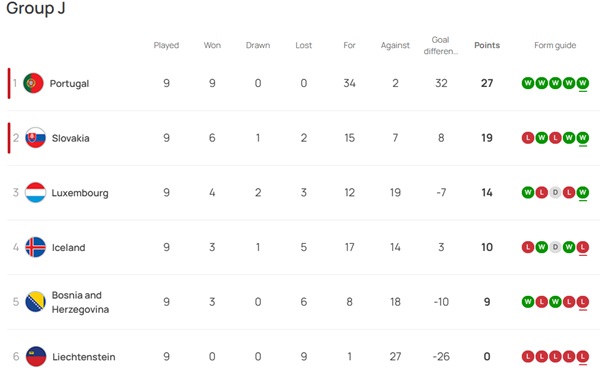 Credit: UEFA
On Thursday 16 November 2023, Luxembourg's men's football team played their penultimate game in their UEFA EURO2024 Qualifier, Group J, at the Stade de Luxembourg.
The evening game attracted a near-full house, with the vast majority cheering on the Red Lions who were playing against Bosnia and Herzegovina. Going into the match, Luxembourg (87th in the latest FIFA rankings) were lying in third place on eleven points, with Bosnia and Herzegovina (ranked 63rd) two points back in fifth.
In June, Luxembourg had won the corresponding fixture 0-2 at the Stadion Bilino Polje in Zenica, thanks to goals from Borges Sanches and Danel Sinani.
With the home side showing three changes from the last match against Slovakia, the match kicked off when Latvia referee Andris Treimanis blew his whistle.
It took only six minutes for the scorboard to start ticking over, thanks to Luxembourg's midfielder Mathias Olesen, with the assist from Florian Bohnert.
With a quarter of the match gone, Luxembourg's captain, Christopher Martins, was the first to find his name going into the referee's book when he received the game's first yellow card for a foul on Hamulić; he was shortly followed by Hadžiahmetović (Bosnia and Herzegovina) for a tackle on Leandro Barreiro.
Gojko Cimirot was then yellow-carded and a penalty was awarded following a VAR review; Up stepped Gerson Rodrigues who made it 2-0 to the home side, from the penalty spot.
With six minutes of added time being played, Bosnia and Herzegovina's Renato Gojković also ended up in the referee's book for a yellow card. HT 2-0 to Luxembourg.
Bosnia and Herzegovina made two changes at the start of the second half, but it was Luxembourg who did most of the pressing, with the visitor's Nihad Mujakić turning the ball into his own net for Luxembourg's third goal on 55 minutes, with Marvin Martins providing the assist. Enes Mahmutovic was then cautioned by the referee shortly before Lars Gerson replaced Maxime Chanot in Luxembourg's first change of personnel.
Bosnia and Herzegovina has two more players booked. With ten minutes left on the clock, both teams made further changes before four minutes of added time were displayed.
There was still time for the scoreboard to keep ticking over, with Renato Gojković scoring off a corner by Hajradinović. And, just two minutes later, with almost the last kick of the game, Gerson Rodriguez scores for Luxembourg for his second of the game.
Final score: 4-1 to Luxembourg who had 55% of possession. Both teams has eight attempts on goal, with Bosnia and Herzegovina picking up six yellow cards to Luxembourg's two.
Although Luxembourg's last match on Sunday (away to Liechtenstein) is still to come, the Red Lions are guaranteed to finish third in their group and are hopeful of qualifying for the play-offs in March in which twelve teams (from the Nations League) will play semi-finals and finals to see which three teams will join the 20 automatic qualifies from the ten groups, and the host nation, Germany, in the tournament that will take place from 14 June to 14 July 2024.
Luxembourg: Anthony Moris (GK); Florian Bohnert; Enes Mahmutovic; Marvin Martins; Maxime Chanot; Dirk Carlson; Leandro Barreiro; Christopher Martins (c); Mathias Olesen; Gerson Rodriguez; Danel Sinani.