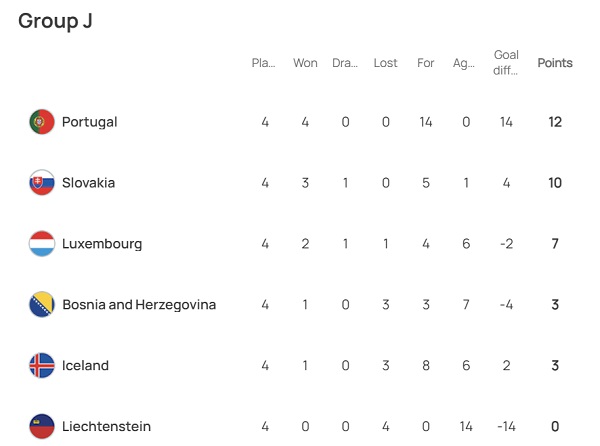 On Monday 11 September 2023, Luxembourg played their sixth match of the EURO2024 men's football qualifiers, Group J, away to Portugal, following three wins in their last three games, at home to Liechtenstein and Iceland (3-1 last Friday) and away to Bosnia and Herzegovina.

However, their EURO2024 qualification hopes spluttered in spectacular fashion in the Estádio Algarve at Faro-Loulé, when the home team romped home 9-0. At 3-0 up at half-time, they added five more in the second half thanks to goals from Gonçalo Inácio (12', 45'+3), Gonçalo Ramos (18', 34'), Diogo Jota (58', 78'), Ricardo Horta (67), Bruno Fernandes (83') and
João Félix (88').

Although the Red Lions had 39% of the possession, they just had four attempts on goal the entire match, compared to 24 by the home side. They were outplayed and outclassed by the superior Portuguese team and picked up three yellow cards (the Portuguese escaped the referee's book).

Luxembourg remain in third place in the table, but Slovakia are now three points ahead after their 3-0 home win over Liechtenstein. Elsewhere in the group, Iceland had a 1-0 home win over Bosnia and Herzegovina.

Luxembourg's next game is on 13 October away to Iceland.

Luxembourg: Anthony Moris (GK); Mica Pinto; Enes Mahmutovic; Maxime Chanot; Laurent Jans (c); Florian Bonert; Danel Sinani; Leandro Barreiro; Timothe Rupil; Yvandro Borges Sanches; Alessio Curci.