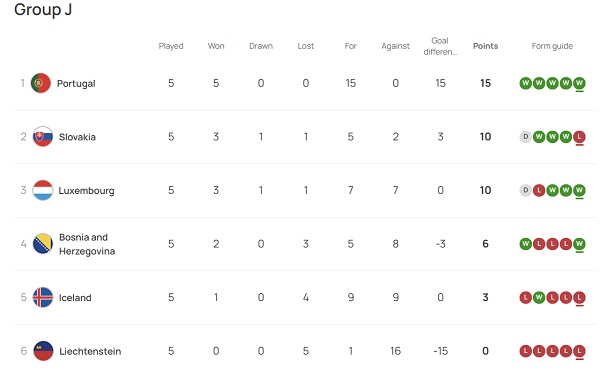 On Friday 8 September 2023, Luxembourg played their fifth match of the EURO2024 men's football qualifiers, Group J, at home to Iceland, following two wins in June at home to Liechtenstein and away to Bosnia and Herzegovina.
The Red Lions continued their great run with a 3-1 win over the Nordic team at the Stade de Luxembourg thanks to goals from Chanot in the first half, and from Borges Sanches and Sinani after the break.
The home team team were up for the challenge against a team ranked 23 places higher than them in the FIFA rankings (Luxembourg #89; Iceland #67) - Bosnia and Herzegovina were ranked #57 when Luxembourg defeated them. Going into the game, Luxembourg were 3rd in the table on seven points, two positions ahead of the visiting side which had three points, both having played four games.
Luxembourg started on the front foot and within ten minutes were a goal ahead. Following VAR confirmation which overturned the referee's on-field decision, Iceland's Rúnarsson was adjudged to have fouled Barreiro, with Maxime Chanot slotting the ball past the Icelandic goalkeeper for the home side to take a 1-0 lead.
It was a tough match, with both teams playing hard; just five minutes after the opening goal, Luxembourg's Enes Mahmutovic was shown a yellow card for a foul on Finnsson. He was followed into the referee's notebook just two minutes later by compatriot Christopher Martins for a foul on S. Magnússon. The game continued to flow, with chances at both ends. Then, five minutes before half-time, Iceland's Hördur Magnússon received a yellow card for a foul on Chanot. Iceland pushed forward, but even with three minutes of added time, they could not find the net.
Half-Time 1-0 to Luxembourg.
Iceland made their first substitution of the game as the second half got underway, with Orri Óskarsson replacing Sævar Atli Magnússon, a forward for a midfielder, as the visitors tried to change their tactics.
Both teams had shots on goal, with the referee showing Hákon Arnar Haraldsson a yellow card. On 64 minutes, with just one quarter of the game left to play, Luxembourg made a triple substitution, with Laurent Jans, Florian Bohnert and Lars Gerson replacing Mathias Olesen, Marvin Martins and Enes Mahmutovic.
Just six minutes later, Luxembourg extended their lead thanks to a goal from midfielder Yvandro Borges Sanches (assist by Curci). Just a couple of minutes later, and 2-0 down, Iceland's evening got a lot worse when the referee booked H. Magnússon for the second time which resulted in a red card and Iceland were down to ten men for the remainder of the match.
With just eleven minutes of play left on the clock, Iceland made a double substitution, with Ísak Bergmann Johannesson and Mikael Anderson replacing Jón Dagur Thorsteinsson and Alfred Finnbogason, with Vincent Thill coming on for Alessio Curci for the home team just two minutes later. Then Ísak Bergmann Johannesson found his way into the referee's book for a dangerous tackle as the match livened up for a thrilling finale.
With just two minutes of normal time remaining, ten-men Iceland found the back of the net thanks to a goal from Hákon Arnar Haraldsson, only for Luxembourg to respond with a minute with the third goal of the game, with Danel Sinani scoring (assist by Borges Sanches).
With seven minutes of added time confirmed, Luxembourg continued to put pressure on the visitors' goal and thought that they had scored a fourth only for VAR to confirm that
Barreiro was adjudged to be offside.
Luxembourg won 3-1 and kept their EURO 2024 hopes alive. Next up, an away match in Portugal on Monday evening.
Elsewhere in the group, Portugal had a 1-0 away win over Slovakia, meaning that Luxembourg are equal with Slovakia on ten points, only missing out on second position on goal difference.
Luxembourg: Anthony Moris (GK); Maxime Chanot; Christopher Martins (c); Enes Mahmutovic; Marvin Martins; Leandro Barreiro; Mica Pinto; Mathias Oelsen; Danel Sinani; Yvandro Borges Sanches; Alessio Curci.