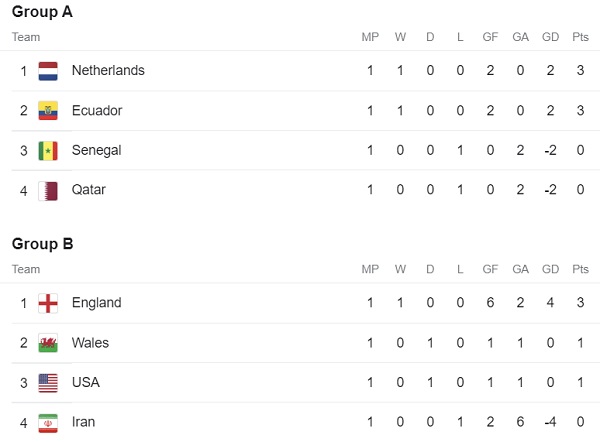 After all the discussion surrounding the awarding of the FIFA World Cup to Qatar including bribery, working conditions, workers' rights, human rights, etc., the players then took to the field to let football do the talking, with the opening game kicking off on Sunday 20 November at 17:00 (CET).
With the first four games now played, Groups A and B have seen their eight teams on the pitch; however, politics were not yet done and dusted and all stadia were noticeable for numbers of empty seats, asking questions of the organisers and their ticketing policies.
Group A
The opening game is traditionally a tepid affair, with both teams more afraid of losing rather than going for a win: however, Ecuador were far too good for a nervous Qatar side with home advantage. Ecuador's captain, Valencia, had a goal disallowed inexplicably for offside after just a couple of minutes, but then scored from a penalty and also from a brilliant header in the first half. On the rare occasion that Qatar got the ball near Ecuador's penalty box, the home crowd roared them on. Interestingly, large swathes of the 67,000 crowd failed to return to their seats for the second half, with their team already 2-0 down: a portent of things to come?
In the second match in the group, three-times runners-up, The Netherlands, played Senegal, the current Africa Nations Cup Champions, with the winners expected to top the group. Two strong sides pitted against each other early in the tournament suggested that this would be a close affair: it was certainly tense, but both teams showed attacking intent, with fast breaks from midfield, often down the middle and not just down the flanks. Although Senegal are without injured Sadio Mané for the tournament, it was The Netherlands who seemed to be lacking in forwards power. Both sides had opportunities in a somewhat less skilful second half, with the Dutch goalkeeper the busier, making a couple of fine saves. But it was The Netherlands that broke the deadlock, with Gapko heading home the only goal of the game with 6 minutes left on the clock, plus 8 minutes of added time. Senegal pressed for an equaliser but it never materialised despite going close; with just a few seconds left of added time (in the 99th minute), Senegal were pressing for an equaliser but left themselves exposed at the back, allowing Klaassen slotting home their second. 2-0 final score. Senegal should score goals and they are an entertaining team to watch; their final match against Ecuador should determine who will join The Netherlands in the knock-out phase of the competition.
Group B
EURO2020 runners-up, England, played their first match against Iran whose influential goalkeeper had to be substituted early in the first half following an unfortunate clash of heads with one if his teammates. His replacement let in three goals in the first half courtesy of youngsters Jude Bellingham and Bukayo Saka, with Sterling adding the third: he had repaid the trust of coach Gareth Southgate despite his loss of form. Another player in that same category was Harry Maguire who had a superb game, always a threat in the air, assured at the back, and he also hit the crossbar with a powerful header from a corner. In the second half, Saka got a second goal, England's fourth, just before Iran scored a consolation through Taremi. With 20 minutes left on the clock, England made 5 substitutions (one enforced, with Harry Maguire injured) to rest some players and give others a taste of World Cup football. Within seconds of coming on, Marcus Rashford slotted home England's fifth. But they were not yet done, with Jack Grealish tapping home Calum Wilson's pass to make it 6-1 a minute before the end of normal time. With 10 minutes of added time (there were 12 at the end if the first half) there was tome for Taremi to score a second, through a penalty, for Iran, to leave the final score at 6-2. Interestingly, Iran's players refused to sing their national anthem before the kick-off, in protest against the current political regime, in support of recent protests in the country. And before the fame England's captain, Harry Kane (as well as Wales' captain, Gareth Bale) did not wear their rainbow armbands following a last-minute decision by FIFA who stated that those doing so risked being booked.
And Wales opened their World Cup campaign against the USA (who will be hosting the next tournament in 2026, along with Mexico and Canada). On paper this was a very evenly-matched contest, with the USA ranked 16th and Wales 19th. The Americans started off the better of the two teams, confident in possession and pressing forward in attack, as well as being the more physical team and appearing to want the win more. But it wasn't until the 36th when Timothy Weah scored the opener for the USA. At 0-1 down at half-time, it was Wales that needed to regroup and find a way of responding to the American pressure and superiority. Unlike England earlier in the day, Wales could not shrug off their pre-tournament bad run of results and could not seem to raise their game on the World Cup stage. So they made one substitution at half-time. Wales did come close to scoring in the 64th minute with a diving header turned over for a corner from which Ben Davies headed just over. This spurred Wales on; they started to believe in themselves and they became more physical. With 10 minutes to play, Wales were awarded a penalty, with Gareth Bale equalising from the spot. The Welsh supporters raised their voice and sung in unison, drowning out all other noise s in the stadium. With 9 minutes of added time, Wales made a couple more substitutions as some players started to suffer from cramp. But that was it. 1-1 at the final whistle.
Today, Tuesday 22 November, it is the turn of teams from Groups C and D, with four games on at 11:00, 14:00, 17:00 and 20:00.