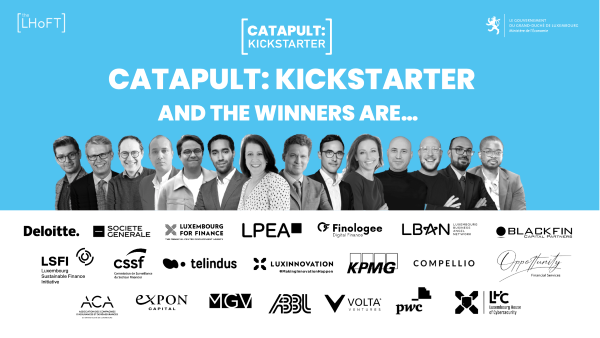 Credit: LHoFT
The fourth edition of the FinTech acceleration bootcamp, Catapult: Kickstarter 2022 Autumn Edition, concluded on Friday 9 December 2022 with the cohort's final pitches at the Luxembourg House of Financial Technology (LHoFT) in front of a jury and a public audience from the Luxembourg FinTech ecosystem.
The programme was developed by the LHoFT Foundation in close collaboration with Luxembourg's Ministry of the Economy. Ten leading FinTech startups, selected from over 140 applications, completed a two-week bootcamp with the aim of developing their business models, focusing on business scaling and risk management, and providing connectivity to the Luxembourg financial services ecosystem. The five laureates selected by the jury were: Invoport, Regtech Datahub, Pelt8, Byrssa and Omnio. They will be eligible for grants of up to €50,000 from the Ministry of the Economy.
In order to effectively leverage the strengths of Luxembourg's community and capabilities, the selected firms focus on delivering services to financial institutions (business-to-business, B2B), with a particular emphasis on insurtech, regtech, fundtech, cryptocurrencies and digital assets, business-to-consumer (B2C) payments, cybersecurity and sustainability – as environmental, social and governance (ESG)-related FinTech is a key area of focus for the Luxembourg financial services ecosystem.
The two-week programme was tailored to the particular stage of the participating FinTechs and structured around classroom tutorials, customer discovery, challenges, one-to-one meetings, pitching sessions, entrepreneurs' feedback sessions and mentorship sessions.
The ten participating FinTech companies met with numerous ecosystem partners over the course of the two weeks, including Luxembourg For Finance (LFF), Société Générale and Middlegame Ventures (MGV), who advised them on their business models, funding strategies and industry product testing.
The programme started on Monday 28 November 2022 and ended with a final pitching event on Friday 9 December 2022.
Nasir Zubairi, CEO of the LHoFT Foundation, said: "It is very encouraging to see the continued commitment from firms all across Europe and even further afield to Catapult: Kickstarter. As such, it was difficult to select ten participants for the programme. We feel all could provide significant value to the Luxembourg financial services centre. The programme was demanding, but all the participating firms were enthusiastic and active in their participation. Only five firms could be selected as laureates, my congratulations to them. I thank our community for their support and active engagement in the programme over the two weeks - it is what makes the programme unique and worthwhile."
Franz Fayot, Minister of the Economy, stated: "I am pleased to see once again such broad interest in the Catapult: Kickstarter programme which has attracted startups from all over Europe and connected them to local financial services and startup ecosystems. I congratulate them all on their successful participation. These young companies are welcome additions to our startup ecosystem with solutions in areas such as sustainable finance, regtech, data analytics and blockchain."