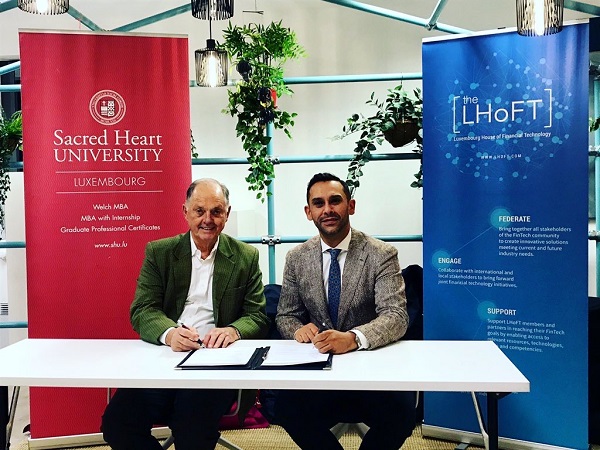 L-R: Dr. Alfred Steinherr, JWCoBT Academic Director; Nasir Zubairi, CEO of LHoFT; Credit: LHoFT
The Luxembourg House of Financial Technology (LHoFT) and the Jack Welch College of Business & Technology (JWCoBT) at Sacred Heart University (SHU) Luxembourg have joined forces to launch the first Fintech Summer School in the Grand Duchy.
On Tuesday 10 December 2019, LHoFT and JWCoBT signed a memorandum of understanding (MoU) formalising their cooperation on developing and launching a Fintech Summer School programme in 2020.
Following the launch of the Luxembourg Academy of Digital Finance between the LHoFT and the Centre for Finance, Technology and Entrepreneurship (CFTE) and the creation of the "Blockchain Hub" by five Luxembourg actors including Infrachain, LëtzBlock, LHoFT, LIST and the University of Luxembourg's SnT, LHoFT has decided to continue to advance tailored-made education programmes and solutions for the benefit of the Luxembourg financial services and FinTech ecosystem.
This MoU was signed at the Luxembourg House of Financial Technology by LHoFT CEO, Nasir Zubairi, and JWCoBT Academic Director, Dr. Alfred Steinherr. The first FinTech Summer School in Luxembourg, provisionally called the "Smart Start-Up Summer School" or "4S", aims to develop FinTech Entrepreneurship / Intrapreneurship, focusing on project and business building skills and agility. Dr. Norbert Becker will chair the advisory board of the FinTech Summer School.
The Summer School programme, scheduled to run for twelve weeks in summer 2020, is designed to provide independent FinTech enthusiasts, innovation specialists, financial services project leaders and JWCoBT students with the necessary know-how to plan and develop their projects. Participants will be taught methodology and approaches to address real-world opportunities and issues.
Over the course of the programme, guided by leading mentors, participants will build teams and develop a practical business plan, potentially taking it further into execution. The programme will also include an intensive one-week classroom based education in Luxembourg, further augmented by a four-day experience in New York and the Jack Welch College of Business & Technology in Fairfield, Connecticut. Connectivity and networking sessions between participants and mentors, innovation stakeholders and curriculum by academics from Luxembourg and the United States aim to deliver a unique and rewarding experience that will create value for and help drive innovation in the Luxembourg Financial Services industry.
Nasir Zubairi, CEO of LHoFT, commented: "Re-skilling and education are key concerns for the financial services industry in Luxembourg. In working with SHU to develop this summer school, we seek to provide a complementary and rewarding solution to help develop the skills and capabilities required for the digital revolution".
Dr. Alfred Steinherr, JWCoBT Academic Director, highlighted: "SHU always endeavours to be a step ahead in endowing its students with the perspectives of trends to unfold and equipping them with the necessary tools and mental processes. To join hands with LHoFT is a win-win for efficiency".