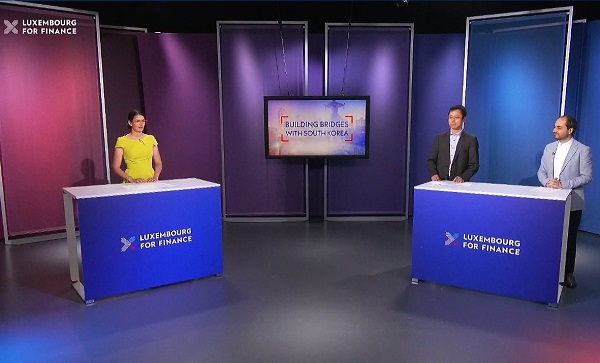 Emilie Allaert (LHoFT) pictured with panellists Chunhe Zhang (PingPong Europe SA) and Robert Machado (CYBAVO); Junhaeng Lee (Streami Inc.) joined the panel remotely; Credit: Screenshot / LFF
On Wednesday 6 July 2022, Luxembourg for Finance (LFF) held a webinar dedicated to the subject of "Building Bridges with South Korea".
Chris Hollifield, Head of Business Development at Luxembourg for Finance, introduced this online event by highlighting the existing ties between South Korea and the European Union (EU) and Luxembourg respectively. In fact, bilateral trade in services between South Korea and the EU rose by over 72% between 2011 and 2020 to reach €18.6 billion in 2020, and the EU remains South Korea's biggest foreign direct investor.
Moreover, 2022 marks the 60th anniversary of diplomatic relations between South Korea and Luxembourg. Both countries also have strong financial services sectors, with Luxembourg being the second largest investment fund centre in the world after the United States (US) and the largest in Europe. Similarly, South Korea's financial services sector includes the third largest banking market in Asia.
"Economy in transition"
The webinar continued with a presentation by Seoungho Jin, CEO and Chairman of South Korean sovereign wealth fund Korea Investment Corporation (KIC), who emphasised the importance of the European market for South Korea; KIC opened an office in London in the United Kingdom (UK) in December 2011 as a gateway to this market. Mr Jin referred to the current global context of an "economy in transition", noting that some countries' economies (including those in the eurozone) would most likely contract in the short term in light of inflation and the war in Ukraine. "Even in such a landscape, new opportunities and possibilities will arise and we are exploring them", he added. Mr Jin described Luxembourg as one of the best prepared countries for this economy in transition due to it being home to many financial players, its low market entry barriers and its promising startup ecosystem. He added that the Grand Duchy offered easy access to neighbouring markets, such as France and Germany, and was a leader in sustainability. As such, he hoped for a strengthened relationship between South Korea and Luxembourg, as well as with Europe as a whole.
In terms of how we should prepare for increased volatility and the transition to new markets in a rapidly changing global economy, Mr Jin emphasised the importance of building stronger, mutually beneficial partnerships and thus creating new opportunities. "Two heads are better than one, especially in times of crisis", he said, adding that this LFF event was a good first step.
Private equity
Chris Hollifield went on to discuss private equity trends with Jin Choi, President of Luxembourg-headquartered Genii Capital Korea. Concerning how the sector is developing amid the current macroeconomic context, Mr Choi recalled that private equity (and real estate – a big focus area for Genii Capital Korea at present) goes in cycles every decade or so and that a functioning market required corrections. He lamented that there was currently a lot of "cheap liquidity" (amid the COVID-19 pandemic, the war in Ukraine, etc.), which "prolong[ed] the inevitable".
On the subject of fintech, Mr Choi described South Korea as one of the world's leading nations in this area. "It's a very aggressive market", he noted, adding that it was, however, "a brilliant market to invest in". He advised those interested in doing business in this field in South Korea to set up a satellite office: "One of the keys is to be in the market itself".
South Korea: a "blue ocean" of opportunities
Next on the agenda was a panel discussion on the globalisation of investment funds, moderated by Xavier Le Sourne, Partner at Elvinger Hoss Prussen, who is based in Hong Kong, and featuring Hongrae Cho, CEO of Korean Investment Management (KIM), and Alessandro Silvestro, Managing Director for Asia Pacific at Lemanik Asset Management SA, who is also based in Hong Kong. Mr Le Sourne began: "Investment funds have always been an effective tool to build bridges". He noted that globalising investment funds dates to the first European directive on undertakings for collective investment in transferable securities (UCITS) in 1985. Today, the assets under management (AuM) of Luxembourg-domiciled funds stand at more than €4.5 trillion.
Mr Silvestro described Luxembourg as the "undisputed leader" in fund distribution but also for alternative investment funds (AIFs). Luxembourg-domiciled investment funds are distributed in some 80 countries around the world. He disagreed, at least in relation to UCITS, with the recent statement of Larry Fink, CEO and Chairman of BlackRock, in which the latter argued that the Russian invasion of Ukraine had put an end to globalisation and that greater regionalisation would be the future. "I can see regionalisation happening but when you want to go global, UCITS are there to stay", Mr Silvestro concluded.
For his part, Mr Cho said that he expected the proportion of overseas investment in South Korean assets to grow in the coming years. He described the domestic market as a "blue ocean" in terms of its size and its allocation of overseas investment compared to other saturated markets in Asia, adding that overseas investment appetite appeared to be following the model of Japan with a gap of ten to fifteen years. He later suggested setting up a joint venture, i.e. a new entity or company, between Luxembourg and Korean companies to sell products to the European and Asian markets, as a concrete way of strengthening the bridge between these countries and guaranteeing mutual benefits in the coming years. He referred to South Korea as the "first stepping stone to the Asian market".
Highlighting the benefits of and differences between reserved alternative investment funds (RAIFs) and special limited partnerships (SLP) in Luxembourg, Alessandro Silvestro explained that both could be launched quickly (RAIFs are indirectly supervised; SLPs are not supervised). However, an RAIF is a fund structure and, provided the fund manager is domiciled in the EU, can benefit from a European fund passport. On the other hand, an SLP is more flexible and can be used as a structuring vehicle for AIFs.
Sustainable finance
Chris Hollifield then introduced Anna Lindner, a lawyer and Senior Associate at GSK Stockmann Luxembourg, who spoke about sustainable finance. In terms of European regulation in this area, she cited three main pillars: taxonomy, disclosure and incentive. Concerning environmental, social and governance (ESG), she noted that the "G", i.e. governance, had always formed an important part of European legislation. The latter was now adding the "E", i.e. the environmental aspect, a lot more, although the "S", i.e. the social aspect, remained "a bit hidden but [was] still there". She recgonised that global ESG regulation could pose a challenge as different countries have their own taxonomies (even within the EU, different countries struggled to unite on specific definitions). And so, it was important to be realistic, she said, and not to expect the EU, the United States (US) and China, for example, to have the same answers. She also recommended that companies "lean in and tackle the issue, [do] not lean out".
Cryptocurrencies: challenges and opportunities
The webinar concluded with a panel discussion on the challenges and opportunities of cryptocurrencies, moderated by Emilie Allaert, Head of Operations and Projects at the Luxembourg House of Financial Technology (LHoFT), and featuring panellists Junhaeng Lee, Founder and CEO of Seoul-based blockchain company Streami Inc., Robert Machado, General Manager for Europe, the Middle East and Africa (EMEA) at CYBAVO, and Chunhe Zhang, Managing Director of ecommerce company PingPong Europe SA. Junhaeng Lee noted that Luxembourg was well known for its "very vibrant huge capital markets". He added that South Korea, like Luxembourg, was very small and had to look abroad "to survive and grow".
Robert Machado highlighted some of the similarities – and differences – he had witnessed between Luxembourg and Europe and Asia. He noted that governments on both continents had shown a strong drive in detecting and developing key markets. However, Asian countries tend to be driven by innovation first and regulators follow, whereas in Luxembourg, innovation is an important driver, but nothing happens until there is regulatory clarity.
Chunhe Zhang pointed out that both Luxembourg and South Korea have strong ecommerce markets, adding that there was huge potential to connect consumers, producers and sellers and thus to expand ecommerce sales by working together. Junhaeng Lee added that there were hardworking early adopters everywhere in South Korea – and Luxembourg could benefit from this. Meanwhile, Robert Machado shared his own experience at Taipei-based CYBAVO, which moved to Luxembourg last year for its European operations, saying that the Grand Duchy has "become a very good test ground for the rest of the European market". As well as being multilingual and close to other European markets, Luxembourg was a key European player in terms of innovation, he added.
Regarding the impact of COVID-19 on operations, Chunhe Zhang stated that ecommerce companies had had a comparatively easy time compared to others. Consumer behaviour changed and ecommerce sales got a boost, particularly in 2020 and in the first half of 2021. Despite the gradual return to pre-pandemic conditions, Mr Zhang still expected more opportunities in the coming years. Mr Lee noted that the pandemic had "expedited people's mass adoption of digital assets and fintech" – a statement with which Mr Machado agreed. The latter explained that one of the benefits of the pandemic had been the adoption of digital currencies. Mr Lee noted, however, that regulations for digital assets were very different from those for fintech. He stressed the need for more regulation in the former not just to protect retails but also to encourage institutions to come in and participate in trading and managing digital assets.
Regarding payments, Mr Zhang felt that there were good opportunities for this industry in the future. Mr Machado added that the payments industry was much more mature than the digital assets industry currently but that players were working hard to get there. He believed (and hoped) that digital money could help solve some of the existing inefficiencies in the industry.
Chris Hollifield concluded this webinar by thanking the speakers and sponsors. He noted that LFF's next season of events will kick off in September 2022 with an event dedicated to international payments.