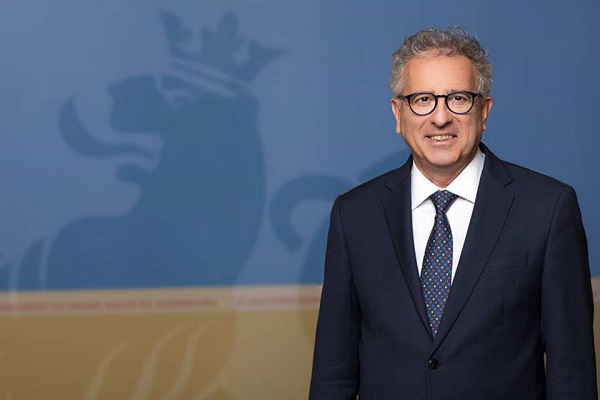 Pierre Gramegna, Luxembourg's Minister of Finance; Credit: SIP / Yves Kortum
Luxembourg's Minister of Finance Pierre Gramegna participated in the 2020 Annual Meetings of the African Development Bank (AfDB), which took place via video conference on 26 and 27 August 2020.
During the discussion sessions, Minister Pierre Gramegna stressed that "the global economic slowdown caused by COVID-19 is impacting Africa through multiple channels. In this context, the work of the African Development Bank is more than ever necessary to implement countercyclical measures that help to mitigate the effects of the crisis. In this regard, the bank was commended for the establishment of the COVID-19 Response Mechanism (CRF), which aims to mobilise $10 billion to finance timely preventive actions and emergency response measures for the effects of the pandemic".
Minister Pierre Gramegna added: "I am delighted to see that in the context of the fight against the COVID-19 pandemic, the African Development Bank has chosen the Luxembourg Stock Exchange to list the most important social bond ever issued by the bank, to the tune of $3 billion. This once again underlines the major role and the recognised expertise that our financial centre plays today in the field of sustainable finance".
The Minister of Finance also highlighted Luxembourg's good cooperation with the AfDB, of which it became a member in 2014. Apart from its participation in the capital increase and the reconstitution of the African Fund last year, the Ministry of Finance has strengthened its collaboration with the bank in the area of ​​financial market integration in Africa, and continued to support the financial inclusion trust fund managed by the bank (Africa Digital Financial Inclusion Facility), with a view to accelerate access to financial services for all segments of the population thanks to fintech.
Finally, Luxembourg's Finance Minister thanked AfDB President Akinwumi Adesina for the excellent collaboration over the past years. In particular, the Grand Duchy hosted the closing meeting of the fourteenth replenishment of the African Development Fund of the African Development Bank Group in 2016. Akinwumi Adesina has been re-elected by the Board of Governors for a second five-year term.
The next annual meeting is scheduled for May 2021 in Ghana.