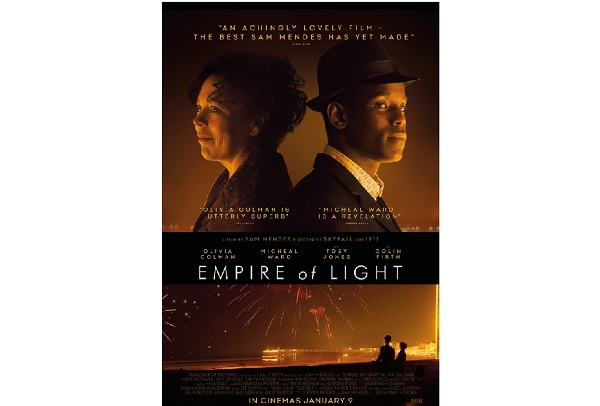 Directed and written by Sam Mendes (American Beauty (1999); 1917 (2019); Skyfall (2012); Revolutionary Road (2008)) and starring Olivia Colman (The Favourite (2018); The Lost Daughter (2021); The Father (2020); The Night Manager (TV series, 2016)), Micheal Ward (Beauty (2022); Top Boy (TV series, 2019-22)), Colin Firth (A Single Man (2009); The King's Speech (2010); Bridget Jones' Diary (2001); Operation Mincemeat (2021)) and Toby Jones (Tinker Tailor Soldier Spy (2011); The Hunger Games (2012); The Wonder (2022)).

Drama; 115 mins; 12+

Set in an English seaside town on the south coast in the early 1980s, at a cinema where Hilary (Olivia Colman) works as a duty manager under Donald Ellis (Colin Firth) whose "empire" has seen better days. Half the cinema complex is no longer used; however, he is hoping that it will soon host the south-coast premiere of a blockbuster film. She lives alone and has few friends and does not really go out, apart from to go to work; however, there she is taken advantage of by Donald. The layers of her backstory are slowly pulled back, revealing a delicate woman with mental health issues who is on prescribed medication.

Stephen (Michael Ward) is a polite and studious young man who wants to go to university. He faces daily adversity due to the colour of his skin; however, he gets a job at the cinema and slowly starts to fit in. Hilary befriends him and helps him to learn the ropes, and Norman (Toby Jones), the projectionist who is very protective of his domain, also takes him under his wing.

However, the simmering undertones rise the surface as Hilary's and Michael's relationship becomes more physical and, with that, her mental health starts to deteriorate. And at the same time, the mods and rockers arrive into down and violence erupts...

Addressing mental illness and racial violence, the films addresses society intolerance as well as the healing power of music, cinema and community. The storytelling is helped immeasurably by sterling cinematography and a great soundtrack which at times throw a melancholic veil over the happenings. Olivia Colman is superb in this film, undoubtedly one of her most important roles (also in The Father). Together with Michael Ward, they portray ordinary folk from different backgrounds facing the challenges of the day, from different perspectives.

Currently being screened at Ciné Utopia.