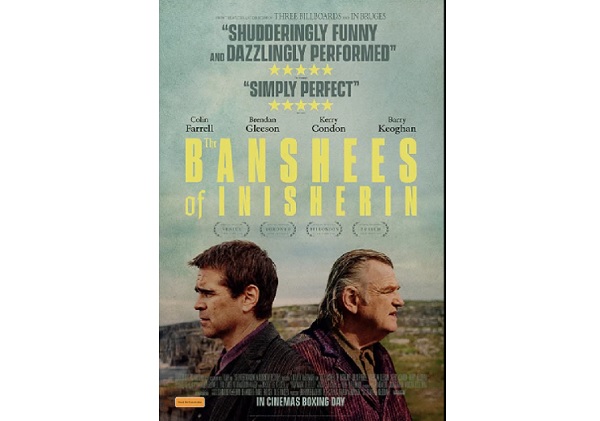 Directed and written by Martin McDonagh (In Bruges; Three Billboards Outside Ebbing, Missouri; Seven Psycopaths) and starring Colin Farrell (In Bruges; The Batman; the Killing of a Sacred Deer; The Lobster), Brendan Gleeson (In Bruges; The Guard; Calvary; Harry Potter and the Deathly Hallows: Part 1), Kerry Condon (Three Billboards Outside Ebbing, Missouri; Avengers: Infinity War; Dreamland; The Runway), Barry Keoghan (Dunkirk; The Killing of a Sacred Deer; The Batman; Calm with Horses), Pat Shortt (The Guard; The Flag; Calvary; Father Ted (tv series)) and Gary Lydon (The Guard; Lakelands; Brooklyn, The Flag).
Drama, black comedy, 114 mins; 16+
Following the huge success of the dark comedy "In Bruges" (2008), Martin McDonagh reunites with Colin Farrell and Brendan Gleeson.
Set in a close-knit community on an island off the west coast of Ireland during the Irish Civil War in the early 1920s, it follows Pádraic Súilleabháin (Colin Farrell) who cannot understand why Colm Doherty (Brendan Gleeson) has suddenly ended their friendship. What follows is an exploration of their characters, without much of a backstory, and involving some others on the island.
The pub is central to the life of the communityy with Jonjo Devine (Pat Shortt) behind the bar; he and other locals are flabbergasted at the deteriation in the two friends' relationship. There is, of course, the island's policeman, Peadar Kearney (Gary Lydon), and his son Dominic Kearney (Barry Keoghan), a simpleton. There are also the village gossip, the postmistress, and the village "witch" who lives alone the other side of the lake...
Pádraic and his sister Siobhán (Kerry Condon) share a cottage, with him doing the farming and she enjoying reading: they have a good relationship and are respected within the community. He has a horse and cart which help him bring his (full) milk churns to customers, and he has a pet miniature donkey which he often lets into the cottage. Meanwhile, Colm lives by himself down by the sea, but has a Border Collie for company; he also plays the fiddle and composes music, performing with others in the pub.
Shot on Achill Island and on Inishmore (Aran Islands), the cinematography is stunning, capturing the remoteness and beauty of the landscape, as well as empathy with the characters as Pádraic tries to rebuild the friendship, refusing to take no for an answer, with devastating consequences as things quickly escalate with Colm determined there will be no turning back. In one scene, the poignancy of island life and close-knit communities is brought to a head as Colm believes he will be remembered for his music, not for being nice...
Wonderful acting, with Farrell, Gleeson, Condon and Keoghan all excelling in their roles. Dark humour, some hilarious lines delivered, and a couple of rather gory scenes.
This film should be winning as the awards season approaches...
Currently screening in Luxembourg at Ciné Utopia, CiNextDoor.