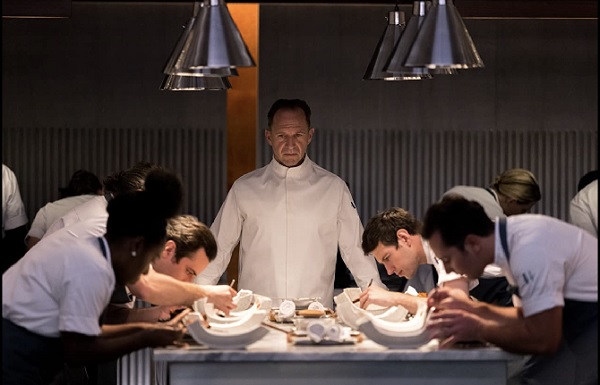 Directed by Mark Mylod (Succession (TV Series); Game of Thrones (TV Series); Entourage (TV Series)) and starring Ralph Fiennes (The English Patient; Schindler's List; The Grand Budapest Hotel; The Constant Gardener), Anya Taylor-Joy (The Queen's Gambit (TV Series); Peaky Blinders (TV Series); Last Night in Soho; The Northman), Nicholas Hoult (About a Boy; Mad Max: Fury Road; True History of the Kelly Gang; Tolkien), Janet McTeer (Albert Nobbs; Tumbleweeds; Into the Storm; Ozark (TV Series)), John Leguizamo (Moulin Rouge!; Son of Sam; John Wick; The Lincoln Lawyer) and Hong Chau (Driveways; Downsizing).
Thriller; 107 mins; 16+
The films opens with Tyler (Nicholas Hoult) and Margot (Anya Taylor-Joy) on the quayside, waiting to be ferried out to an island for an exclusive dinner. We do not know much about him, or her for that matter, only that he had originally invited someone else to join him only for her to break up with him - the story of his life, it seems. We were then gradually introduced to other diners, including a famous restaurant / food critic, Lilian (Janet McTeer) and a representative from her magazine, a self-centred film star (John Leguizamo) and his wannabe film star girlfriend...

They were greeted by Elsa (Hong Chau) who was also responsible for the front of house. A sommelier served different wine with each course and the cooks served each dish individually to all diners, once introduced by the terrifying sociopathic Chef Slowik (Ralph Fiennes) who explained that he wanted all the diners to taste each course, not simply eat it. He appeared to be consumed by his art and, as the evening wore on, his intentions started to become clear. The Chef had done his homework on each individual and had a surprise in store for each one; that is why Margot was out-of-place and disrupted his planning as he had not done his homework on her.
The modern restaurant on the small island which seemed just to have a small jetty and the Chef's house as well as the restaurant itself. There was a hen-house and a small forest of trees, but that was about it. Nowhere to hide.

The diners started to enjoy themselves as they were paying a lot of money for the exclusive privilege of being there. But slowly the true motivation of the Chef began to dawn on everyone, many of whom through that the strange happenings were all part of the show. But no, the intention was for nobody to leave the island alive... While the characters themselves were not really developed, their backgrounds as well as the motivations of the Chef were all slowly unwrapped for the audience who could sit back and watch the horror show unfold.
Ralph Fiennes was terrifyingly good as the Chef, someone not to be messed with and obviously unhinged...
Currently being screened in Luxembourg at Kinepolis.