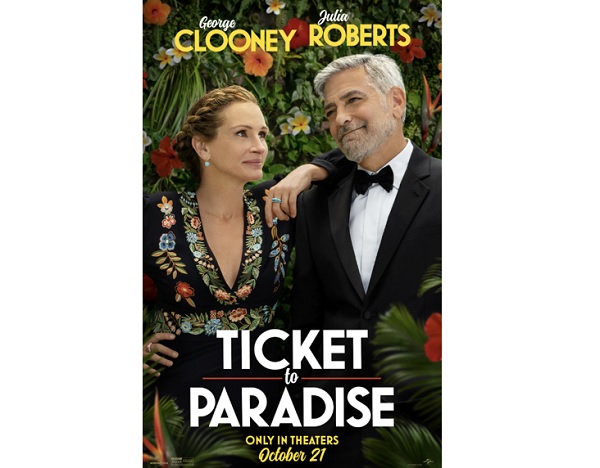 Directed by Ol Parker (Mamma Mia! Here We Go Again; Now Is Good; also the writer of The Best Exotic Marigold Hotel) and starring Julia Roberts (Pretty Woman; Erin Brokovich; Steel Magnolias), George Clooney (Syriana; Argo; Michael Clayton; The Monuments Men; Up in the Air), Kaitlyn Dever (J. Edgar; Booksmart; Last Man Standing (TV Series); Unbelievable (TV Mini Series)), Maxime Bouttier (Serendipity; The Perfect Husband; Unknown (TV Mini Series)) and Arielle Carver-O'Neill (Suburbs (TV Series); Worst Year of My Life, Again! (TV Series)).
Comedy Drama; 104 mins; 6+
David (George Clooney) and Georgia (Julia Roberts) have a mutual dislike of each other following their divorce; however, things are different concerning their daughter Lily (Kaitlyn Dever) who invites them to her college graduation (as a lawyer). Despite their animosity towards each other, the graduation goes off well.
Soon afterwards, she sets off on a trip with her best friend Kimberley (Arielle Carver-O'Neill), to Bali in Indonesia where she meets Gede (Maxime Bouttier), a local seaweed farmer and who brings tourists snorkelling and scuba diving in the pristine waters.
When Lily informs her parents that she is getting married to Gede after knowing him for only three months, they set off for Indonesia with the intent of persuading her to change her mind, and to stop her from making the same mistake they think they made 25 years ago. They put aside their differences and team up, focussing on the three components they feel are needed for the decision to marry a person: time, place and circumstance.
A very predictable comedy drama with a wafer-thin plot and an entirely predictable outcome; however, the acting of Roberts and Clooney, in particular, and their chemistry together, not ignoring their terrific comedy timing, sets this apart and makes it a rather enjoyable romantic comedy, particularly one for a cold and wet autumn / winter Sunday afternoon. The scenery is stunning (the film was actually shot in northern Queensland, Australia, not in Indonesia), as are the colourful sets during the few days of the wedding celebrations. Sentimental and nostalgic; and a great sound track too.
Also interesting is the mix of cultures and the way both families embrace the other's.
Currently screening at Kinepolis in Luxembourg.