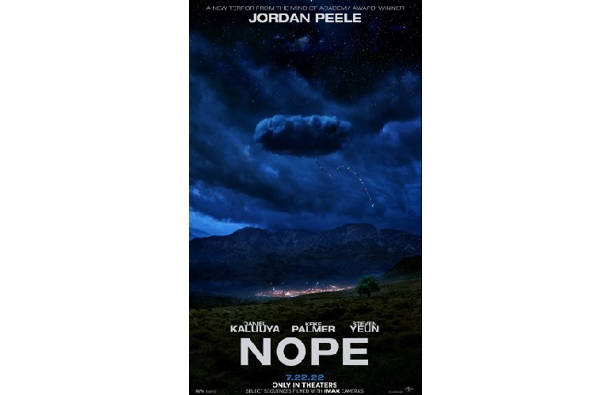 Directed by Jordan Peele (Get Out; Us; also an accomplished actor in The Twilight Zone (TV Series), etc.) and starring Daniel Kaluuya (Get Out; Judas and the Black Messiah; Black Panther; Sicario), Keke Palmer (Alice; Hustlers; Ice Age: Collision Course), Brandon Perea (the Volunteers; The OA (TV Series)), Michael Wincott (Knight of Cups; Hitchcock; The Count of Monte Cristo; Along Came a Spider) and Steven Yeun (Minari; Space Jam: A New Legacy; The Walking Dead (TV Series)).
Sci fi; 130 mins; 16+
Set in California in the modern day, the story centres around OJ Haywood (Daniel Kaluuya) and his sister Emerald (Keke Palmer); after their father dies in the saddle of his horse after random items fall from the sky, the brother and sister disagree on how to salvage the family business - they train horses used in Hollywood. Rather interestingly, Emerald claims that they are descendants of the very early days of moving images, when their great-great-grandfather was photographed on a horse which appears to be moving.
From the outset, OJ appears to be more pragmatic and more of a realist, starting to sell off their horses to a neighbour, Ricky 'Jupe' Park (Steven Yeun), who runs a small theme park. In flashbacks, Ricky is a survivor from when he was a child star; one day on set "Gordy", a chimpanzee, runs amok and kills and maims his co-stars (loosely based on the true story of Travis, a real-life chimpanzee who went on a violent rampage).
Meanwhile, OJ and Emerald see strange phenomena in the sky and they experience unexplained happenings such as significant drops in power (even on cell-phones); she senses the opportunity to get rich by capturing a UFO on film. They go into town to get CCTV equipment from an electronics store; there they meet Angel Torres (Brandon Perea) who comes out to their ranch to install the equipment. Emerald also reaches out to renowned documentary filmmaker Antlers Holst (Michael Wincott) whom she had met on set one day, trying to encourage him to participate to get the "million dollar shot".
What happens next is a series of events that (eventually) link together. While an interesting take on the genre, a couple of things stand out: the chimpanzee anecdote / episode takes away from the main storyline, and the billowing effects are strange, to say the least - a lot more could have been done regarding special effects. Mysterious, ambiguous and subtle all-in-one.
After "Get Out" and "Us", Jordan Peele, the director, had been compared to a modern M. Night Shyamalan (The Sixth Sense; Signs; The Village), but he has some way to go to live up to his early reputation. Nope contains a lot of subplots and recurring themes, one of which concerns animals being used for entertainment purposes.
Currently being screened at the CiNextDoor network of cinemas in Luxembourg.