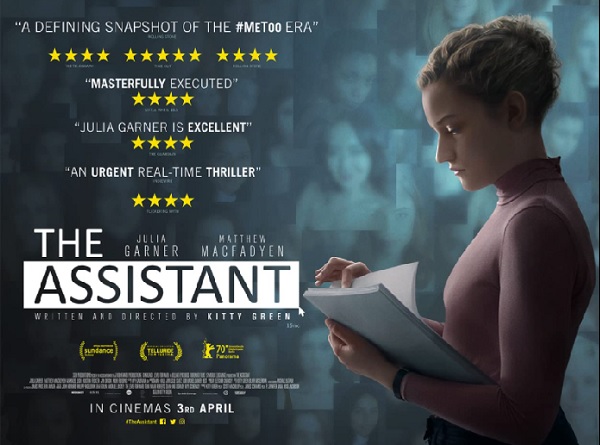 Directed by Kitty Green (Casting JonBenet; Ukraine Is Not a Brothel) and starring Julia Garner (Ozark (TV series)); The Americans (TV Series); Sin City: A Dame to Kill For; The Perks of Being a Wallflower), Owen Holland (Generation Um...; Girl Most Likely; Beneath) and Migs Govea (Ocean's Eight; Motherless Brooklyn).
Drama; 87 mins; 12+
This film takes place over the course of one day of Jane's (Julia Garner) working life. Having started a new job as an assistant in a film production and distribution company just a few months previously, by starting at the bottom in her dream to become a film producer, The Assistant was filmed in the aftermath of the Harvey Weinstein scandal and the subsequent #MeToo movement.
Jane gets into the office early and leaves late, hoping to make a good impression despite the mundane tasks of her lowly position. She tries her best, is good at her job and tries to cover for her boss who appears to be having affairs. She is exploited and her boss screams at her and demeans her, with executives (including Migs Govea) and an assistant (Owen Holland) helping her to save her job by encouraging her to go with the flow and not confront what are now deemed to be unacceptable behaviour.
A young woman arrives for interview and Jane brings her to her hotel; in the taxi they make small talk; but Jane is concerned for her, particularly when her boss does not return after lunch and is understood to be at the same hotel.
Jane recognises that the insidious abuse she is experiencing and suspecting, is wrong, so she raises the issue with a manager, understood to be in charge of HR, who does not want to listen to Jane's concerns. Not only does he not act on them, he informs her boss and other colleagues, making life hell for Jane on her return to the office.
This film will resonate with so many people, particularly women, who start entry-level jobs and have to put up with degrading, sexist and unsympathetic (the list of adjectives could go on and on) behaviour from bosses and colleagues. It paints a realistic representation of the daily mundane tasks one does, yet surrounded by such a toxic environment which do not only have female victims, but male too. It is very subtle, to the point that the protagonist's relationship with her parents is being stretched to the limit, but without anyone realising. They think that she has landed on her feet, in the city with a good job soon after graduating from college; however, little do they realise the environment in which she now finds herself - even if they did know, they would most likely just accept it, such as the way that such institutional behaviour became the norm and went unchallenged for so long.