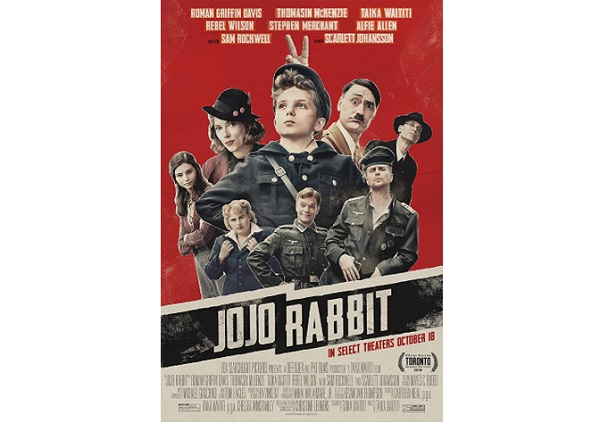 Directed by Taika Waititi (Hunt for the Wilderpeople; What We Do in the Shadows) and starring Roman Griffin Davis (his first screen role), Thomasin McKenzie (True History of the Kelly Gang; The Changeover; The Hobbit: The Battle of the Five Armies), Scarlett Johansson (Her; Lost in Translation; Marriage Story; Captain Marvel; Iron Man 2; We Bought a Zoo; Vicky Cristina Barcelona), Sam Rockwell (Vice; Three Billboards Outside Ebbing, Missouri; Seven Psychopaths; Cowboys & Aliens) and Rebel Wilson (Pitch Perfect; Bridesmaids; The Hustle; Night at the Museum: Secret of the Tomb).
Black comedy; 108 mins; 12+
Set in WWII in Germany, the storyline follows 10 year-old Jojo (Roman Griffin Davis) who has enlisted with his friends in Hitler's youth army. He is influenced by the swathe of nationalism sweeping the country and wants to fit in, as do many others, including his troop commander Captain Klenzendorf (Sam Rockwell) and Fraulein Rahm (Rebel Wilson).
He lives with his mother Rosie (Scarlett Johansson) and discovers that she had been hiding a young Jewish girl, Elsa (Thomasin McKenzie), in her attic. Until then, he had thought that his mother was very patriotic and nationalistic.
Amongst all this, Jojo has a toy rabbit and an imaginary friend, Adolf Hitler (Taika Waititi)...
Following on from his superb Hunt for the Wilderpeople (if you haven't seen it yet, please do so), this is a wonderful satire on following the status quo and "not seeing the wood for the trees". Lots of subliminal messaging throughout, and particularly towards the end when many characters' true colours are revealed. All is not what it seems, but it is up to Jojo, with some help from his friends and from Elsa, to try and make sense of the madness. His heart and his mind play conflicting scenarios.
Original, emotion-inducing and thought-provoking, with great acting throughout. Don't let a fear/loathing of Hitler and his ideals put you off seeing this. The messages are as true today as they were in the 1940s.