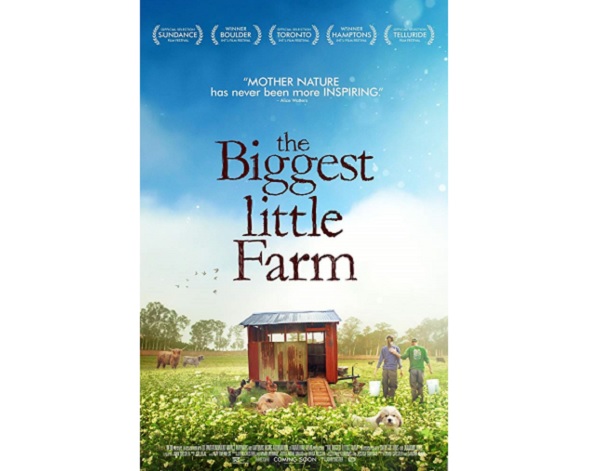 Directed and written by John Chester (an Emmy-winning director who has been a filmmaker and television director for the last 25 years) and starring John Chester and Molly Chester.
Docu-drama; 91 minutes; children admitted
"The Biggest Little Farm" follows John and Molly Chester who live in California and make a life-changing decision when they are evicted from their small apartment (their new dog Todd barks all day long when left alone, and their neighbours have had enough). They decide to create a sustainable farm and convince family, friends and investors to support them on their ambitious project. They acquire a 200-acre piece of land; the documentary follows them as they discover a dried-up lake, the remains of beehives and much more...
Starting from scratch, they enlist the help of Allen who advises them on what to plant (75, not 5 as they intended, varieties of fruit) and how to create a balanced ecosystem. Sceptical at first, he claimed it would take seven years for the farm to gain its balance...
The Chesters start to revive and nurture the soil and come up against challenge after challenge, some natural (wind, rain, fire) and others animal in nature, but they overcome them one by one. For every challenge there is a solution - the ducks solve one, the birds solve another, the coyotes another, and so on. But it is the groundwork (literally) that they do which saves their farm when the torrential rain washes away the topsoil from the areas around the farm.
Throughout their journey, we are introduced to various characters, including Emma the pig and Greasy the rooster who form an unlikely partnership. And then there are the chickens, whose eggs are always the first to sell out from their market stall, and which their numbers are decimated by the coyotes. But that is not all - Todd is joined by other members of the canine family...
Some of the most intriguing footage was from the night cameras they installed, while some of the species and numbers at the end are truly eye-opening.
This is nothing like the 1970s British tv comedy series "The Good Life" which features a couple escaping the rat race and setting up a farm in their suburban home. Instead, it can be viewed as to how the world we live in could be sustainable with some hard work and determination. It is a film about harmony with nature, about life and death, and defines what sustainability is all about..
A riveting film and wonderful cinematic experience that will have you on the edge of your seats as you share a very moving and exhilirating journey with the Chesters - one of the best documentaries you will likely ever see, and one for all the family.