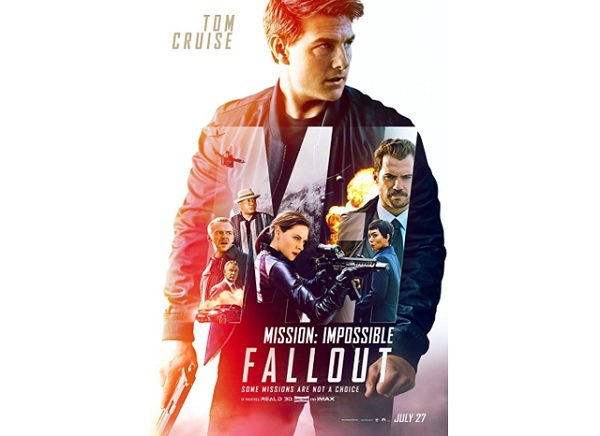 Directed by Christopher McQuarrie (Mission: Impossible - Rogue Nation; Jack Reacher) and starring Tom Cruise (Mission: Impossible...; Jack Reacher; Born on the Fourth of July; Jerry Maguire; Magnolia; The Mummy; Valkyrie; War of the Worlds; Rain Man; Top Gun), Henry Cavill (Man of Steel; Batman v Superman: Dawn of Justice; The Man from U.N.C.L.E.; Red Riding Hood; The Cold Light of Day), Ving Rhames (Mission: Impossible - Rogue Nation; Pulp Fiction; Soldiers of Fortune; Con Air), Simon Pegg (Mission: Impossible - Rogue Nation; Star Trek; Shaun of the Dead; Absolutely Anything; Hector and the Search for Happiness), Rebecca Ferguson (Mission: Impossible - Rogue Nation; The Greatest Showman; The Girl on the Train; Florence Foster Jenkins), Michelle Monaghan (Mission: Impossible - Ghost Protocol; Kiss Kiss Bang Bang; Gone Baby Gone; Patriots Day; Source Code) and Alec Baldwin (Mission: Impossible - Rogue Nation; Still Alice; Blue Jesmine; Elizabethtown; The Aviator; Pearl Harbor).
Action adventure, 147 mins, 12+
Ethan Hunt (Tom Cruise) is back, alongside Luther Stickell (Ving Rhames) and Benji Dunn (Simon Pegg); while in Belfast he accepts a mission which requires the recovery of three spheres of plutonium - the actual plot is a lot more complex than that, but that's what it boils down to...
In essence, it is set two years after Ethan Hunt had successfully captured Solomon Lane. The remnants of the Syndicate have reformed into another organisation called the Apostles. Under the leadership of a mysterious fundamentalist known only as John Lark, they are planning to acquire the three plutonium cores.
Their search takes them to Berlin, Paris and London before a finale in the mountains of Kashmir. Along the way they come across Alan Hunley (Alec Baldwin), Ilsa Faust (Rebecca Ferguson) and August Walker (Henry Cavill), never really knowing whose side they are on. While the CIA (American) and MI6 (British) are fighting over an "asset", Ethan Hunt takes his eye off the plutonium and rescues his colleague, leading to suspicion falling on his shoulders.
In this cat-and-mouse tale of espionage, the stakes have never been higher; and the stunts have never been as incredible - from the motorcycle chase in Paris, including around the Arc de Triomphe, the rooftop running and jumping chase scenes in London (during which Tom Cruise famously broke an ankle during filming), and the jaw-dropping helicopter chase and mountain-side scramble in Kashmir.
All in all, the almost-two-and-a-half-hour-long film flies by as the action rarely stops, helped in no small parts by the death-defying stunts; it simply pauses, allowing your brain to try and work out and get your head around the various strands of the plot, working out who is really working for who and why they are going after so-and-so. Included in this are Ethan Hunt's love interests, both Ilsa Faust (Rebecca Ferguson) and Julia Meade-Hunt (Michelle Monaghan), his former wife.
A great summer blockbuster to see on the big screen in a large air-conditioned screening room out of the searing heat.