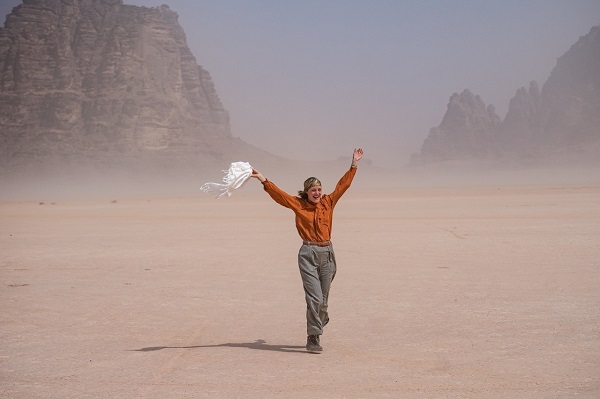 Bachmann - Reise in die Wüste; Credit: AMOUR FOU Luxembourg
On Monday 23 January 2023, Luxembourg's National support fund for audiovisual production, Film Fund Luxembourg, confirmed that three Luxembourg co-productions will feature at this year's Berlinale which is set to take place from 16-26 February 2023.
After the announcement last week of the selection in the Generation Kplus section of Enzo D'Alò's film, A Greyhound of a Girl, a Paul Thiltges Distributions co-production, Luxembourg cinema will therefore be represented this year at the Berlinale by three films in the official selection, as follows:
1) the Austrian-Luxembourgish-German-Swiss co-production, Ingeborg Bachmann – Reise in die Wüste (Ingeborg Bachmann – Journey into the Desert) directed by Margarethe von Trotta (AMOUR FOU Luxembourg – Bady Minck and Alexander Dumreicher-Ivanceanu) with Vicky Krieps in the role of the Austrian writer Ingeborg Bachmann (1926-1973). The film will be presented in official competition and as a world premiere.
In this film, we find several other Luxembourg actors (secondary roles and small roles) including Marc Limpach, Nickel Bösenberg, Elisabeth Chuffart and Tessy Strotz. The original music is the work of Luxembourgish composer André Mergenthaler, the costumes were created by Uli Simon, the lighting by Helder da Silva, the sound editing by Jacques Kieffer and the sound mixing by Michel Schillings (Philophon); André Fetzer is the line producer and Karoline Maes the production manager.
2) the animated feature film The Siren co-produced by Luxembourg (BAC Cinéma – David Grumbach), France, Germany and Belgium, and directed by Iranian Sepideh Farsi. The film is selected in the Panorama section which it will open.
The design, layout, sets, animation, compositing and special effects were produced in Luxembourg at the Picture Factory studio of Fabrique d'Images. Editing, sound effects and mixing were done by Philopon studios, and colour grading by Espera Productions.
3) the animated feature film A Greyhound of a Girl will be part of the Generation Kplus 2023 competition
It is based on the novel by Roddy Doyle; it is directed by Enzo d'Alò who co-wrote the screenplay along with Dave Ingham. It features the voices of Brendan Gleeson, Sharon Horgan, Rosaleen Linehan, Charlene McKenna and Mia O'Connor.
The production companies included Paul Thiltges Distributions (PTD) (LU), Aliante (IT), Jam Media (IE) GOAG Productions (UK) Rija Films (LV), Amrion (EE), GFM Animation (UK) Fish Blowing Bubbles (DE). PTD credited the work of La Fabrique d'Images, Philophon Studios and Espera Prod in Luxembourg. The producers were Adrien Chef, Paul Thiltges, Xenia Douglas, Richard Gordon, Mark Cumberton, Vilnis Kalnaellis, Riina Sildos, Guy Collins and Artur Kubiczek.
The three films selected for the Berlinale 2023 have benefited from the support of the Film Fund Luxembourg.