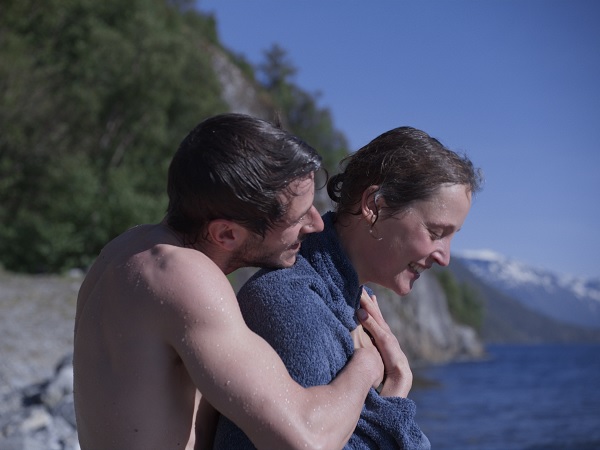 (L-R): Gaspard Ulliel, Vicky Krieps in Plus que jamais by Samsa Film; Credit: Samsa Film
Film Fund Luxembourg, the National support fund for audiovisual production, has announced that a total of five Luxembourg co-productions will be in the official selection of the forthcoming 75th Cannes Film Festival (17-28 May 2022), including two with Vicky Krieps in the lead role, in what the Film Fund described as "exceptional recognition for our national cinema".
Following the announcement last week of the official selection of the film Corsage (Samsa Film), the Cannes Film Festival has unveiled four new selections for Luxembourg: Plus que jamais (Samsa Film) and Harka (Tarantula Luxembourg) in the official selection "Un certain regard", Le petit Nicolas – Qu'est-ce qu'on attend pour être heureux in the "Special Screening" official selection and Rebel in the "Midnight Screening" official selection.
Plus que jamais / More than ever, co-produced by Jani Thiltges (Samsa Film) and directed by Emily Atef
The film is a co-production between France, Luxembourg, Germany and Norway. Luxembourg actress Vicky Krieps plays the lead role alongside young French actor Gaspard Ulliel, who died last January.
Flying the Luxembourg flag, the cast includes the actresses Sophie Langevin and Valérie Bodson; the technical team (at the Filmand studios in Kehlen) is made up of Catherine Dauphin (script), Capucine Courau (sound editing), Brigitte Kerger-Santos (executive producer), Kevin Dresse (head electrician), Jean Françoise Roqueplo (head machinist), Jill Kibbey (set designer), Barbara Prati (props specialist) and Ambroise Gayet (general manager Luxembourg).
Arka, co-produced by Donato Rotunno (Tarantula Luxembourg) and directed by Lotfy Nathan.
The film is a co-production between France, Tunisia, Luxembourg and Belgium, the sound post-production of which was entirely carried out in the Philophon Studios in Bettembourg.
Le petit Nicolas – Qu'est-ce qu'on attend pour être heureux / Little Nicolas - What are we waiting for to be happy? is co-produced by Lilian Eche and Christel Henon (Bidibul Productions) and directed by Amandine Fredon and Benjamin Massoubre, based on the work of René Goscinny and Jean-Jacques Sempé.
This animated film is a co-production between France and Luxembourg and the first animated feature film of the adventures of Little Nicolas where the line of Jean-Jacques Sempé comes alive for the very first time thanks to the magic of 2D artisanal drawing. The layout and colour sets were provided by Studio 352 in Contern, the compositing and special effects by the Onyx Lux 3D studio in Luxembourg. The Philophon studios in Bettembourg produced the sound editing, sound effects and mixing, while the music for the film was recorded at the Philharmonie de Luxembourg.
Rebel, co-produced by Jesus Gonzalez (Calach Films) and directed by Adil El Arbi and Bilall Fallah
The film is a co-production between Belgium, France and Luxembourg and involves two Luxembourg actors, Tommy Schlesser and Nassim Rachi. The technical team is represented by Uli Simon (costume manager), Véronique Dubray (make-up manager), Lucia Valverde (script), Jean-François Roqueplo and Pascal Charlier (handle managers), Theo Theodorides (1st camera assistant B), Nicolas Leroy and Angelo Dos Santos (sound editors), plus Loïc Collignon (mixer).

Tribeca Film Festival
In addition, the Tribeca Film Festival (to be held in New York from 8 to 19 June 2022) has just announced its first selections, including the animated feature film "My Love Affair with Marriage" directed by Signe Baumane and co-produced by Raoul Nadalet (Antevita Films). This co-production between Latvia, the United States and Luxembourg will compete in the "International Narrative Competition" section.