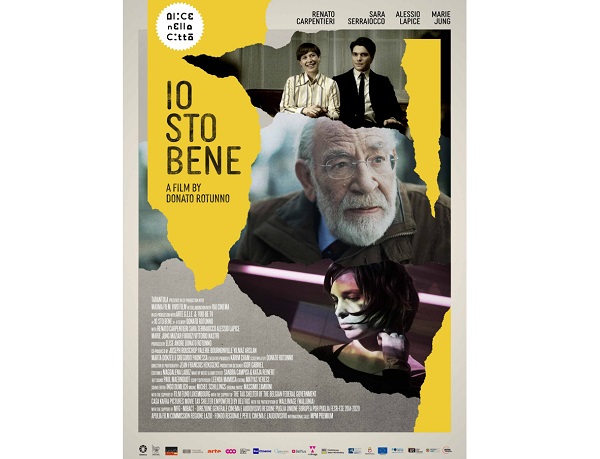 The national Oscars selection committee has chosen Donato Rotunno's "Io Sto Bene" to represent Luxembourg in the "Best International Feature Film" category at the 94th edition of the Academy Awards (Oscars).
Directed by Luxembourgish director Donato Rotunno, founder and CEO of Tarantula Luxembourg, Io Sto Bene is a comedy-drama about Antonio, an older Italian man who has spent his whole life away from his home country, and Leo, a young Italian artist who is trying to make it abroad. The old man and the young woman's destinies mirror each other. Memories from the past are awoken and end up offering a more peaceful future to both of them.
The national Oscars selection committee, organised under the patronage of the Filmakademie and made up of representatives of associations and institutions of the Luxembourg film industry, emphasised the artistic quality of this work and the "perfect inclusion" of the subject in current socio-cultural life on the theme of immigration, an important issue in the history of Luxembourg.
The committee also particularly appreciated the mastery of the production, the direction of the actors and the accuracy of the shots. The "impressive" performances of the actors and technicians (mostly Luxembourgers) added a creative touch to this "beautiful" Luxembourg production.
The film was screened at the opening of the Alice nella Città Festival in Rome in October 2020 and selected in several festivals including the Mons International Film Festival in Belgium. It will soon be in competition at the Hof International Film Festival in Germany and presented at the closing session of the Villerupt Italian Film Festival in France.
In Luxembourg cinemas since 13 October 2021, Io Sto Bene will be released in Italy in November 2021 and then in Belgium in March 2022.
Donato Rotunno has made several documentaries, including "Terra Mia Terra Nostra", "Les Mesures du Rectangle" and "Blà Blä Blá". His first feature film, "In a Dark Place", won the award for best artistic contribution at the Lëtzebuerger Filmpräis 2007. His second feature film "Baby(a)lone", adapted from the novel "Amok" by Luxembourgish author Tullio Forgiarini, was chosen to represent the Grand Duchy at the 88th Academy Awards. Io Sto Bene is his third feature film. With his company Tarantula Luxembourg, he has also produced around 30 films to date.
Io Sto Bene will be submitted to the Oscars committee, which in turn will select five foreign films for the Oscars ceremony, scheduled for 27 March 2022. The nominations for the Best International Feature Film category of the Academy Awards will be announced on 8 February 2022.