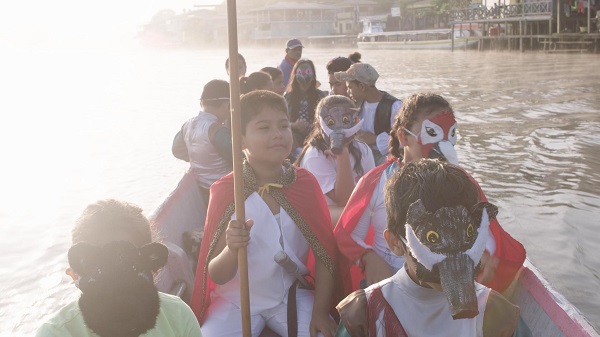 River Tales; Credit: Film Fund Luxembourg / Calach FIlms
The national Oscars selection committee has chosen the documentary "River Tales" (Cuentos del rio) to represent Luxembourg in the Best International Feature Film category at the 93rd edition of the Academy Awards, taking place on Sunday 25 April 2021 at the Dolby Theatre in Hollywood.
Directed by Luxembourgish filmmaker Julie Schroell, River Tales follows a teacher in Nicaragua who co-writes a play with the children in his village, located on the banks of the San Juan River. The play allows the children to reflect on their identity in the face of Chinese plans to construct a canal between the Atlantic and Pacific Oceans. The San Juan symbolises 500 years of colonisation and exploitation of natural resources and has already seen 70 canal projects fail.
The documentary was directed by Julie Schroell, who directs and produces films in Luxembourg and Berlin, Germany, and was produced by the Luxembourg company Calach Films.
The Luxembourg premiere of River Tales, initially scheduled for March 2020 as part of the 10th Luxembourg City Film Festival (LuxFilmFest), was cancelled due to the COVID-19 health crisis. After being broadcast on VOD in the LuxFilmFest Home Edition catalogue, the film was released in Luxembourg cinemas on 16 September and is currently still being screened.
The film won the Peripheral Visions Award at the Galway Film Fleadh in Ireland as well as the Best Environmental Documentary at the Close Up Dokufest in Edinburgh, Scotland. It has been selected in several documentary festivals across Europe.
Nominations for the "International Feature Film" category of the Academy Awards will be announced on 15 March 2021.
The national Oscars selection committee is made up this year of six people representing the Luxembourg film industry: Aude-Laurence Clermont Biver, Actors.lu; Guy Daleiden, Film Fund Luxembourg; Claude Pauly, Luxembourg federation of authors and composers (FLAC); Béatrice Stephany, Luxembourg association of audiovisual technicians (ALTA); Yann Tonnar, Luxembourg Film Academy; Pierre Urbain, federation of animation and virtual image professions (FMAIV).