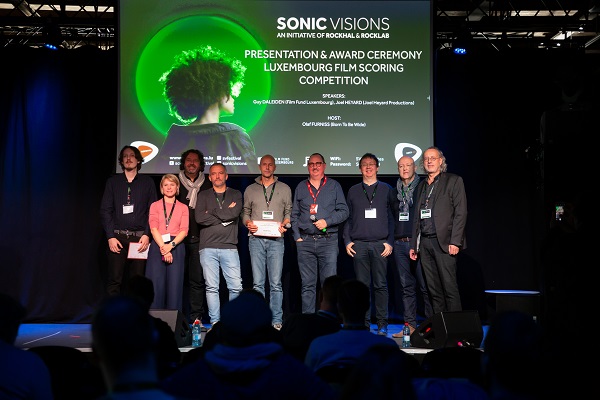 Film Music Composition Award Winners 2019; Credit: Tammy Schuh
On Saturday, composers Max Scheer and Claude Pauly were awarded the prize for the best young composer (under 30 years) and were presented with prizes worth €750 and €2,000 respectively, at the Sonic Visions festival in Rockhal in Esch-Belval.
The Film Fund Luxembourg and the Luxembourg Federation of Songwriters (FLAC) had organised the first edition of a composition contest for film music as part of the music and cinema focus of the 16th edition of the "Rencontres de coproduction Francophone". The competition aimed to create synergies between Luxembourg's music and audiovisual sectors, and to provide an experimental platform for emerging and established composers. The competition was open to any natural person of Luxembourg nationality or residing in or having their main activity in the Grand Duchy of Luxembourg.
Guy Daleiden, Director of the Film Fund, stated "This new initiative is fully in line with the Film Fund's desire to work hand-in-hand with the other cultural actors and institutions in the Grand Duchy, and to continue its collaboration with the Sonic Visions festival which started three years ago. Moreover, it demonstrates the Fund's willingness to support and promote the development of the Luxembourg audiovisual sector in its entirety, and to encourage fruitful exchanges between the various departments that are part of it."
The candidates had five months to put to music an extract of the Luxembourger film "Eng nei Zäit" by Christophe Wagner. The competition had a great response with 23 composers responding to the call for projects.
Roby Steinmetzer, President of FLAC, stated "We are delighted by the great success of this new initiative because the competition has shown that Luxembourg has a good pool of young and established composition talents. Moreover, we hope that this competition will help to professionalise the profession of composer and will open the doors to new collaborations between directors / producers on the one hand and composers on the other."
The jury of the competition consisted of André Dziezuk, composer (president), Pierre Funck, composer, Jeannot Sanavia, composer, Laura Schroeder, director and Carole Kremer of the Film Fund Luxembourg.
The prizes were offered by the Film Fund Luxembourg.