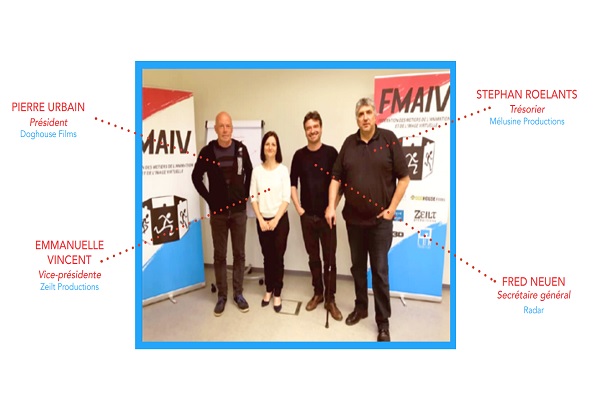 Board members; Credit: FMAIV
The "Fédération des Métiers de l'Animation et de l'Image Virtuelle" (FMAIV) has been supporting the Luxembourg film industry for the past four years.
Created on 20 June 2015, the FMAIV aims to bring together the majority of producers, technicians and artists working in this sector (animation and virtual image).
Indeed, for more than twenty years, the industry has grown considerably, with an increasing number of films and television series being rewarded by an international audience. This has included various nominations as well as prizes obtained in the biggest international festivals from Los Angeles, Tokyo and London to Cannes, Annecy, Berlin and Venice.
The purpose of the FMAIV is thus to ensure continuous growth of the sector in a spirit of intense collaboration between all its members. Its studio members are: Mélusine Productions; Radar; Fabrique d'images; Doghouse Films; Zeilt Productions; CGLUX Productions.
Currently, Pierre Urbain (Doghouse Films) and Emmanuelle Vincent (Zeilt Productions) serve as Chairman and Vice-Chairwoman of the organisation. They are supported by Treasurer Stephan Roelants (Mélusine Productions) and Secretary General Fred Neuen (Radar),