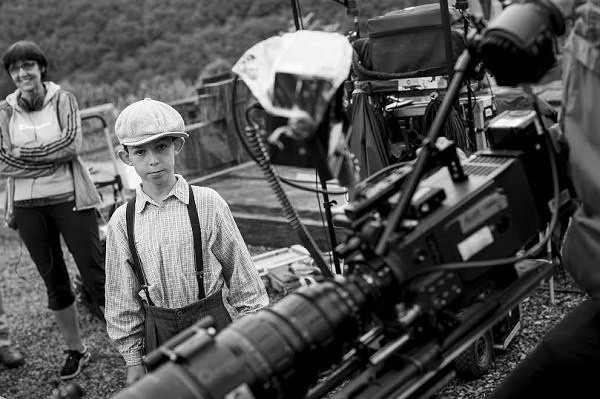 Members of the public who enjoyed the film 'Eng nei Zait' ('Tomorrow, After the War') will soon be able to explore the movie in-depth with the behind-the-scenes exhibition at the Abbaye de Neumünster from 31 October 2015.
The exhibition 'Kann e Land seng Zukunft op Ligen opbauen?' was designed and produced by Marie-Anne Theriez and Paul Lesch, and will feature photos by Patrick Müller, Ricardo Vaz Palma, Paul Lesch and Think Twice as well as drawings, archives, and real sets and objects created for the film.
Film excerpts will bear witness to the creative power and ingenuity of artists and technicians in eliciting the director Christophe Wagner's vision, as well as unearth the secreats in creating cinema sets, props costumes, makeup and special effects.
Historical thriller 'Eng nei Zäit' involved large-scale shooting, with producer Claude Waringo of Samsa Film explaining: "39 days of shooting, 10 months of post-production, the best and numerous actors, a finish which was organised around major special effects, all this explains why we show the most ambitious Luxembourgish film in history".
The set played a central role in 'Eng Nei Zäit', as is the case in many movies, to the point of almost becoming a character itself. Whether real or created from scratch by a production designer working behind the scenes with a team of painters, carpenters and prop specialists, the set is vital in creating the appropriate atmosphere of the film.
Neimënster and Samsa Film will hold the opening for the 'Kann e Land seng Zukunft op Ligen opbauen?' ('Can a Country Build its Future on Lies?') exhibition at 18:30 on Friday 30 October 2015, in the cloister of the Abbaye de Neumünster, and will include a celebratory drinker offered by Bernard Massard S.A. To attend the opening, contact +352 26 20 52 1 or contact@neimenster.lu.
The exhibition will be on display daily between 11:00 and 18:00 from 31 October to 22 November 2015. The exhibition will be closed on 1 November 2015 for All Saints Day. Entrance to the exhibition, held in the Lucien Wercollier Cloister of Abbaye de Neumünster, is free.
Photo by Neimënster