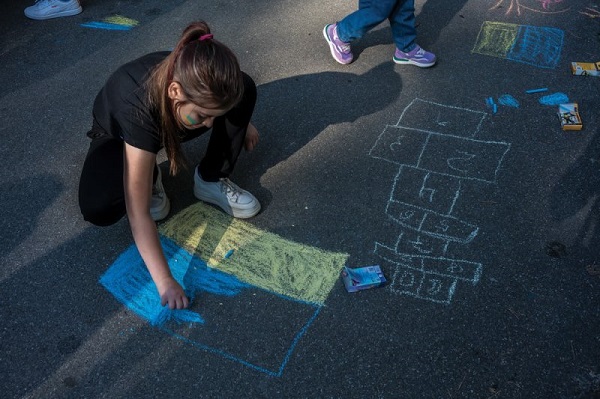 Credit: CinEast
The 15th edition of CinEast, the Central and Eastern European Film Festival in Luxembourg, taking place from 6 to 23 October 2022, will screen six feature films by Ukrainian filmmakers as part of its special programme dedicated to Ukraine.
In order to show solidarity with those suffering due to the war in Ukraine and with the Ukrainian community in Luxembourg, CinEast has prepared a special Ukrainian programme aimed at offering visibility to Ukrainian filmmakers and artists, raising awareness of the situation in Ukraine and creating an opportunity to help those in need by contributing to the charity project "CinEast4Ukraine".
The festival will screen six feature films by Ukrainian filmmakers, including very recent ones that have won awards at major festivals. These films include: Luxembourg, Luxembourg by Antonio Lukich; Klondike by Maryna Er Gorbach; Pamfir by Dmytro Sukholytkyy-Sobchuk; Butterfly Vision by Maksym Nakonechnyi, How Is Katia? by Christina Tynkevych; One Day in Ukraine (documentary) by Volodymyr Tykhyy.
The opening film will also be a Ukrainian production, Luxembourg, Luxembourg, the screening of which will take place at Neumünster Abbey (neimënster) on Thursday 6 October 2022 at 19:00. This film was selected in the Orizzonti competition at the Venice Film Festival and part of it was filmed in Luxembourg. In addition, a special evening of documentary short films will take place at neimënster on Wednesday 12 October 2022 at 20:00, with the screening of recent films about Ukraine, followed by a debate aimed at presenting the historical and social context of the ongoing war. CinEast will host Ukrainian guests, including film director Christina Tynkevych and producer Olha Panteleeva.
The festival also features two concerts by Ukrainian bands: "DZ'OB ensemble - Forward meets CinEast" at neimënster on Wednesday 19 October, a concert by the Ukrainian electroacoustic ensemble DZ'0B, and "Ukrainian Evening" with Ukrainian folk-rock band Joryj Kloc at Rotondes on Thursday 20 October 2022.
Two out of five projects in the main photography exhibition "Communities" are from and about Ukraine (Ukrainian photographer Alina Smutko and Brendan Hoffman, a US photographer and reporter based in Ukraine). Both projects depict, among other aspects, the solidarity and resilience of the local communities facing human dramas, destruction and shortages. Moreover, the exhibition "Chameleon Women from Ukraine", a project mixing photography and art by Ukrainian artist Alyona Sukhorukova, who fled the war and is currently residing in Luxembourg, has been installed at Ancien Cinéma in Vianden.
Similarly, there will be several events with a Ukrainian gastronomic accent and typical drinks and snacks prepared by members of Luxembourg's Ukrainian community.
CinEast will also continue to run its "CinEast4Ukraine" charity project, launched immediately after the outbreak of the war in February 2022 in order to support those in need in Ukraine. Throughout the 2022 edition, CinEast will be raising funds which will be transferred to its partner organisation LUkraine asbl and used to help victims of the war. The goal is to gather enough money to finance an equipped ambulance to be sent to Ukraine.
CinEast offers free access to festival screenings and to most special events to Ukrainian refugees residing in Luxembourg.
Details of films and events are available on the official website: www.cineast.lu.