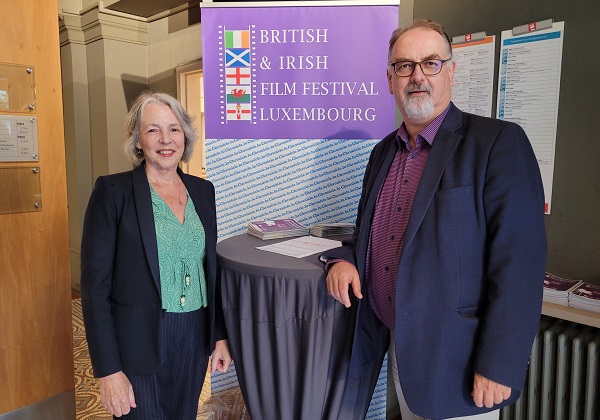 L-R: Siún Ní Raghallaigh; Geoff Thompson, BIFFL organiser; Credit: Jazmin Campbell / Chronicle.lu
On the evening of Tuesday 20 September 2022, the Ireland Luxembourg Chamber of Commerce (ILCC), which is celebrating its tenth anniversary this year, teamed up with the organisers of the 13th annual British and Irish Film Festival Luxembourg (BIFFL) for an event dedicated to film production.
This event featured a screening of the 2021 Irish-language film "Foscadh" (Shelter), based on characters in Donal Ryan's novel The Thing About December, followed by a short seminar, "The Business of… Film Production", with special guest Siún Ní Raghallaigh. The event ended with a reception for ILCC members.
Siún is the former CEO of Ardmore Studios and Troy Studios, Ireland's two largest film studios, which were sold to an American joint venture in August 2021. She previously served as Managing Director of the Irish free-to-air public service TV network TG4.
Ahead of the BIFFL film screening and seminar, Chronicle.lu had the opportunity to sit down with Siún Ní Raghallaigh (during her very first visit to Luxembourg) to discuss her professional career, the evolving world of (Irish) film production and her thoughts on the Luxembourgish film industry.
When asked how she first got involved in the film industry, specifically production, Siún explained: "I didn't plan it. It just sort of happened". She had been working in newspaper publishing originally, before getting a job setting up a new Irish-language channel in Ireland – what would become TG4. "I was involved in that for several years. And then, I left that and went into production. There wasn't a masterplan or anything", she quipped.
Whilst Siún is now on the road to retirement (from her executive role at Ardmore Studios and Troy Studios), she described a typical day in her life at the studios as "mayhem". "I suppose it depends where you were at, in terms of production or in the business of the studios, whether you're in sales mode or settling a production in mode or getting them out mode", she elaborated. "Busy days, always full of problems that need resolving or challenges that need to be solved. And dealing a lot with people; it's a people business, no matter what aspect of it you're in. Everything from concept to distribution, it's all about people".
Regarding the impact of the COVID-19 pandemic on the Irish film industry, Siún noted that her work in the studio business was not particularly affected. "I had productions in both studios. I had Ridley Scott's film 'The Last Duel' in Ardmore and I had 'Foundation', the Apple TV show in Troy in Limerick". Nevertheless, following a two-month holding period, strict protocols were introduced. "I think COVID was probably one of my busiest times, because of the amount of additional work that happened because of COVID, because of the protocols, because of trying to keep things segregated, a lot of adaptations to do to the buildings. It was a very busy time", Siún recalled. "But production continued and in Ireland, it was considered an essential service, so we were able to motor on, thankfully".
On whether she preferred working on certain genres or subjects, Siún stressed that a lot depended on the people with whom she would be working on a project. She noted that she has collaborated often with Dieter Auner, the director of two feature documentaries in which she was involved: Off the Beaten Track (2010) and Dreams of a Clown (2014). "I like working with him, so that's one of the main things: who are you going to work with", she elaborated. "It's down to people, so it's people I like to work with". This is particularly the case for animation, according to Siún, who explained that she very often works with Moe Honan, CEO of Moetion Films (where Siún works as Executive Producer), in this field.
The Moetion Films team have already worked together with Luxembourg's Fabrique d'Images on two co-productions: Two by Two – Ooops… The Ark Has Gone (2015) and Ooops 2! The Adventure Continues (2020). Elaborating on her experience with the Luxembourgish film industry, Siún said: "My exposure to it is through [Fabrique d'Images] being one of our co-producers". She described Guy Daleiden, Managing Director of Film Fund Luxembourg, as "a great ambassador for Luxembourg in the film community" and shared that she had had "a really good experience with Luxembourg". Siún added that "everything depends on the project itself and the people involved really", as well as how feasible the project is, i.e. whether it will receive funding.
Returning to her experience in the Irish film industry and how this industry has evolved over the years, she highlighted two main aspects: incoming productions (from abroad) and the indigenous industry. In the former, tax incentives play a significant role, but also experience. "Ardmore Studios has been there since 1958 and has built up a very experienced workforce around the studios. And so, that skillset is very valuable", she explained. "And then, the building of Troy Studios was kind of a game changer, because we were able to go out and pitch for production that were of a much bigger scale than Ireland could handle before".
"Then, you have your indigenous industry", she continued. "We're telling our own stories as […] we do well and I think it's really evolving despite it being a very small market and a very difficult market to fund projects out of". She recalled that drama and animation tended to be co-productions, often due to the funding models used in Europe. "I think the industry is changing a lot, I think it's growing, I think it's maturing and it's finding its own voice and that's a good thing", she added.
Concerning the recent news that Westmeath County Council has given the green light for a new film and TV studio in Mullingar and what this might mean for the Irish film industry, Siún recalled that this is one of several big studio projects in Ireland; there are others in Ashburn, South County Dublin and Kilkenny. "It's great, but it's easy to get the planning permission, it's raising the money to build it", she explained. "So, I wish them luck. I think the more there is, the better it is, that more projects come in. So, it's good, but it's a long road".
As for her advice for aspiring young filmmakers, she emphasised the importance of visualising and structuring one's goals. "I think that's what you have to do, because it's such a popular career choice but you burnout very quickly if you don't have some method to your madness. And you have to be tough", she said.
Looking to the future, Siún shared that she is thinking about working on another documentary, this time one with a focus on Irish history and an "interesting female academic aspect". However, this is in the "very early concept stages".