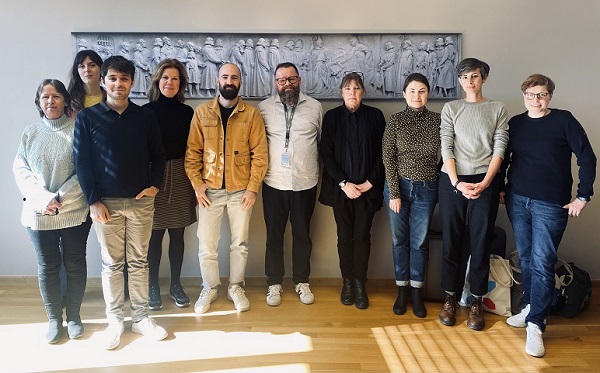 Credit: EFF / LuxFilmFest
The Europa Film Festivals (EFF) network, which was present at the Luxembourg City Film Festival's (LuxFilmFest) Industry Days event, has elected Alexis Juncosa as its new president.
Alexis Juncosa, who currently serves as Artistic Director of LuxFilmFest, will succeed Miriam Allen of the Galway Film Fleadh, Ireland.
Miriam Allen commented: "I am delighted to pass the Presidency of Europa Film Festivals to Alexis Juncosa, who will bring commitment, energy and a renewed focus to EFF".
For Alexis Juncosa, the priority will be to structure the network and give it the means to fulfill its ambitions: "It is both a great responsibility and an honour to succeed Miriam Allen. It is also a source of pride to lead a group composed of such talented festival leaders".
EFF is a network of European film festivals that aims to promote and develop the culture of European festivals and film. Its initial objectives are to promote, stimulate and encourage the development of film festivals in Europe. This network is designed to provide a formalised system for sharing information, strategies and culture between festivals. The network will shape, develop and agree on common positions and perspectives on key issues. In doing so, the network will be able to develop resources, business models, best practices and information and exchange infrastructure to support members in the film ecosystem.
Working very closely with Europa International, the European organisation of international distributors, one of the EFF's first tasks is to undertake a guide of good practices between distributors and festivals, which will be published later this year. It will also allow for the opportunity to collaborate in the distribution and exhibition of new European cinema beyond borders. In particular, the network will help to improve the relationship between festivals and the market and challenge the homogeneity of titles on the film festival circuit, focusing on first and second feature films from low-production countries and minority/under-represented filmmakers who may struggle to gain mainstream distribution beyond their country's borders.
Origins of EFF
The Europa Film Festivals grew out of a European Capital of Culture Galway 2020 project called "Peripheral Visions" and first met at a conference during the Galway Film Fleadh in 2017. This helped lay the groundwork of a collaboration between festivals of the same nature. EFF aims to maximise the vast experience, knowledge and creativity of its members in a sustainable and constantly evolving network. The network is autonomous, allowing it to have a long-term sustainable existence.
Members of the EFF Board of Directors
- Alexis Juncosa (President) - Luxembourg City Film Festival, Luxembourg
- Miriam Allen - Galway Film Fleadh, Ireland
- Michele Devlin - Belfast Film Festival, Northern Ireland
- Hrönn Marinósdóttir - Reykjavik International Film Festival, Island
- Alejandro Díaz Castaño - Gijon Interntational Film Festival, Spain
- Jacqueline Schrijver - Noordelijk Film Festival, the Netherlands
- Kathrin Kohlstedde - Filmfest Hamburg, Germany
- Nektarios Sakkas - Athens International Film Festival, Greece
- Anaïs Emery - Geneva International Film Festival, Switzerland
- Guilhem Caillard - Festival de Films CINEMANIA, Montreal, Canada
- Milja Mikkola - Midnight Sun Film Festival, Finland
- Johanna Caraire - Festival International du Film Indépendant de Bordeaux, France