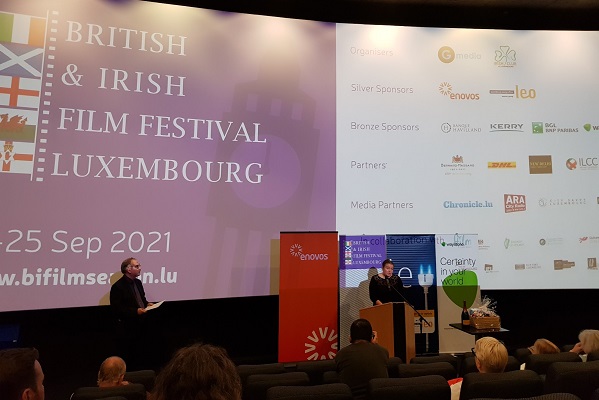 L-R: Geoff Thompson, BIFFL director; British Ambassador Fleur Thomas; Credit: Jazmin Campbell / Chronicle.lu
The curtain came down on the 12th British & Irish Film Festival Luxembourg (BIFFL) on Saturday evening, with the screening of English-American historical drama "The Current War".
Prior to the closing screening, BIFFL director and organiser Geoff Thompson spoke of the gradual return to the cinema eighteen months into the COVID-19 pandemic. He noted that this year's festival, which was held for the very first time in a hybrid format, witnessed an increased attendance of almost 20% compared to last year's edition.
Speaking at her first BIFFL, the new British Ambassador to Luxembourg, Fleur Thomas, expressed the hope that next year would see a return to fully in-cinema film festivals, without COVID-19 restrictions. She praised the festival for its efforts in highlighting British and Irish cinema talent. The Irish Ambassador to Luxembourg, Stephen Dawson, was also present at this closing screening.
It was then time for the BIFFL Awards, during which the winners of this year's Critics' Award, Audience Award and Audience Prize were announced.
On behalf of the Association Luxembourgeoise de la Presse Cinématographique (ALPC), France Clarinval dedicated the Critics' Award to "Men Who Sing", a documentary by Dylan Williams about the Male Voice Choir in Wales. Special mention went to Tadhg O'Sullivan's documentary "To the Moon". The ALPC selected the winning films from eight documentaries, all of which were available online and some of which had also been screened in-cinema during the BIFFL 2021.
The Audience Award, which included fourteen films in competition (all of which had been screened in-cinema prior to closing day), recognised the following three films:
"I Never Cry" (Jak najdalej stad), an Irish-Polish drama directed by Piotr Domalewski
"Herself", an Irish-English drama by Phyllida Lloyd, and this year's opening film;
"Ooops 2 - The Adventure Continues", an animated feature film co-produced in Luxembourg, Ireland, Belgium and Germany.
Geoff Thompson named Niamh O'Doherty and Wendy Casey as this year's Audience Prize winners; they received a magnum of crémant from Bernard-Massard and a Home from Home hamper, respectively.
The screening of Alfonso Gomez-Rejon's "The Current War", starring Benedict Cumberbatch, Michael Shannon and Nicholas Hoult, concluded the 12th edition of the British & Irish Film Festival Luxembourg. The film tells the dramatic story of the 19th-century competition between electricity titans Thomas Edison and George Westinghouse to determine whose electrical system would power the modern world.