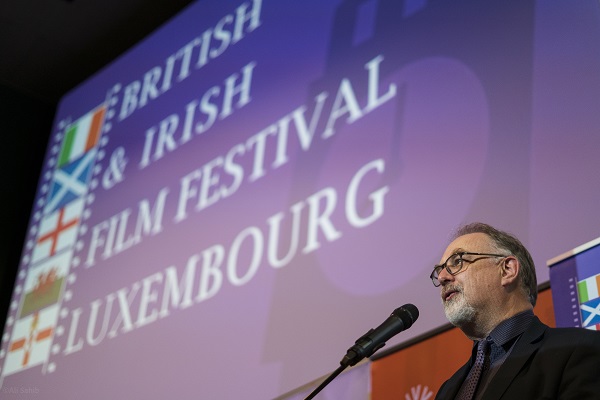 BIFFL organiser Geoff Thompson; Credit: Ali Sahib
On Thursday evening, the 12th edition of the British & Irish Film Festival Luxembourg (BIFFL) opened to a full house at Ciné Utopia.
Before the opening screening of "Herself", festival organiser Geoff Thompson spoke of the challenges for the arts, culture and entertainment sectors over the past almost two years due to the COVID-19 pandemic. Whilst last year's edition of the BIFFL was able to go ahead in Luxembourg cinemas, health restrictions meant that capacity was limited to 25%.
This year, for the very first time, the film festival is taking place in a hybrid format. The ten-day event includes 21 feature-length films (the most ever featured at BIFFL), sixteen of which are being screened in-cinema and nine of which are available online (including five which are online-only).
In his opening remarks, the Irish Ambassador to Luxembourg, Stephen Dawson, emphasised the importance of the Irish and British film industries, particularly in sharing the stories of Irish and British people. He recalled that both the Embassy of Ireland and the British Embassy Luxembourg have supported the BIFFL for several years.
This year's opening film was "Herself", a 2020 Irish-British drama directed by Phyllida Lloyd (Mamma Mia!; The Iron Lady) and written by Malcolm Campbell and Clare Dunne. The latter also stars as the film's protagonist: Sandra, a single mother of two daughters who is trying to rebuild her life after escaping her abusive husband.
In this poignant, poetic and powerful drama, Sandra sets out to build a house for her children, all the while juggling several jobs and fighting against a broken housing system and a seemingly unfair justice system. The film is raw and honest, tackling all too relevant housing, social and women's issues. However, "Herself" also features moments of hope, as Sandra, with a little help from her daughters and friends, fights relentlessly for her family's future.
The opening screening was followed by a well-received pre-recorded Q&A session between Geoff Thompson and director Phyllida Lloyd and actress-screenwriter Clare Dunne. The latter explained that the screenplay for "Herself" was inspired by a conversation with her close friend, a single mother of three who was facing homelessness.
The 12th edition of the British & Irish Film Festival Luxembourg is running until Saturday 25 September 2021. Further details are available at www.bifilmseason.lu.