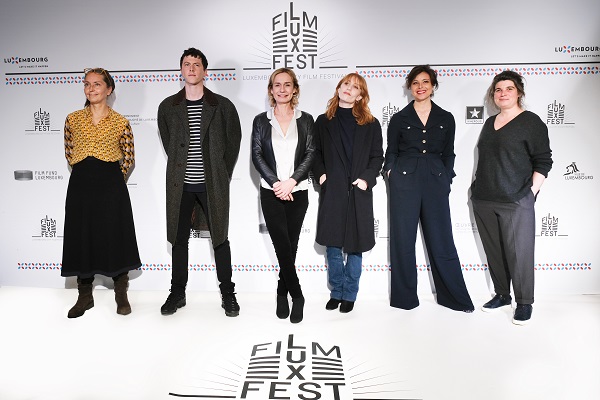 LuxFilmFest International Jury 2021; Credit: Olivier Vigerie
The 11th annual Luxembourg City Film Festival comes to an end today, Sunday 14 March 2021, with the Awards Evening being held yesterday, Saturday 13 March, at Kinepolis-Kirchberg.
The festival organisers announced that they were delighted that audiences have returned to cinemas for this year's hybrid edition (featuring in-person cinema screenings and online content), a European first for 2021. With an estimated 4,200 audience members in cinemas and an occupancy rate of almost 80% (albeit with screening rooms at circa 25% capacity due to COVID-19 restrictions), the result of the 11th Luxembourg City Film Festival exceeded expectations for an event that took place in a challenging health context.
With an initial estimate of 20,000 online views, the digital platform was a resounding success, despite geo-blocking restrictions limiting access to films to Luxembourg residents. As for the awards, the International Jury presided by Sandrine Bonnaire, and the Press Jury chose to honour the Bosnian film "Quo Vadis, Aida?" by Jasmila Žbanić (Grand Prix – by ORANGE and Critics' Award), while the Swiss feature "Nemesis" by Thomas Imbach was awarded the Documentary Award – by BGL BNP PARIBAS, after the European EUROPA FILM FESTIVALS federation's online deliberations.
The winning films
The big winner of this 2021 edition is "Quo Vadis, Aida?" by Jasmila Žbanić. The film is awarded the GRAND PRIX – BY ORANGE, worth €10,000. Actor and director Sandrine Bonnaire presided over an International Jury made up of Christina Schaffer (production designer), Finnegan Oldfield (actor), Gilles Marchand (screenwriter), Lolita Chammah (actor), Marie-Ange Luciani (producer) and Mounia Meddour (director). "We would like to award the GRAND PRIX – BY ORANGE to a strong film, a committed film, a necessary, useful film," explained Sandrine Bonnaire.
"By presenting the Critics' Award to this film, we wanted to both commemorate the terrible massacres committed in Bosnia-Herzegovina in the early 1990s and highlight the scientific research that, up to the present day, is still trying to identify the victims. The aesthetic qualities of this film which intertwines historical and family tragedies, as well as the marvellous performance of the Serbian actress Jasna Đuričić, have particularly moved us […]," added the Press Jury comprised of France Clarinval, Loïc Millot and Geoff Thompson. The Press Jury also chose to award a special mention to THE WOLVES (LOS LOBOS) de Samuel Kishi Leopo.
This year, the Documentary Jury was made up of the members of the EUROPA FILM FESTIVALS federation: Galway Film Fleadh, Luxembourg City Film Festival (exempt from voting), Belfast Film Festival, Reykjavík International Film Festival, Gijón International Film Festival, Noordelijk Film Festival, Filmfest Hamburg, Athens International Film Festival, Geneva International Film Festival, Festival de films CINEMANIA, Midnight Sun Film Festival, Festival International du Film Indépendant de Bordeaux. "For its humourous images, its funny and intelligent editing, as well as for its highly original sound work, we are presenting the DOCUMENTARY AWARD – BY BGL BNP PARIBAS to an atypical film that blurs the boundaries between documentary, fiction and experimental cinema: NEMESIS by Swiss director Thomas Imbach," they said in their statement. The Award is worth €5,000.
AUDIENCE – BY ORANGE: THE WOLVES (LOS LOBOS) by Samuel Kishi Leopo
This award is given to the film which received the highest number of online votes. One participant won one Samsung Galaxy A32 5G smartphone, offered by ORANGE Luxembourg.
The list of the winners in a nutshell:
• GRAND PRIX – BY ORANGE: QUO VADIS, AIDA? by Jasmila Žbanić
• DOCUMENTARY AWARD – BY BGL BNP PARIBAS: NEMESIS by Thomas Imbach
• CRITICS' AWARD: QUO VADIS, AIDA? by Jasmila Žbanić; Special Mention: THE WOLVES (LOS LOBOS) by Samuel Kishi Leopo
• AUDIENCE AWARD – BY ORANGE: THE WOLVES (LOS LOBOS) by Samuel Kishi Leopo
• YOUTH JURY AWARD – BY KINEPOLIS: ANTIGONE by Sophie Deraspe - YOUTH JURY: 5 students of the LYCÉE ROBERT SCHUMAN's 3e A Media class: Sarah, Alyssa, Christina, Maya and Rachel, as well as their teacher Luc Wildanger.
• SCHOOL JURY AWARD: ANTIGONE by Sophie Deraspe; SCHOOL JURY: the students of the 6e CI04 class of the Lycée des Garçons, with their teacher Danielle Hoffelt.
• KIDS' JURY AWARD: ROCCA CHANGES THE WORLD (ROCCA VERÄNDERT DIE WELT) by Katja Benrath; KIDS' JURY: The pupils of the Cycle 3.2 from the Clausen Elementary School, with their teacher Véronique Oberlé.