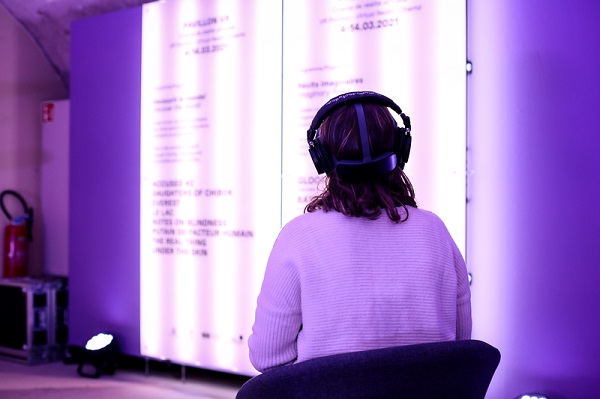 Credit: Sophie Margue
To meet demand, Film Fund Luxembourg and neimënster have decided to extend the VR Pavilion dedicated to virtual reality and the VR to Go rental service until 30 May 2021.
Despite the current health context and related sanitary measures, this year's VR Pavilion, which launched on 4 March, has attracted a large audience. Building on this success, the organisers will continue to screen thirteen films free of charge in the VR Pavilion installed on the neimënster site, in compliance with the sanitary measures in force.
Along with the in-person Pavilion, the new VR to Go concept exceeded expectations and attracted a large audience. The principle is simple: members of the public can reserve a headset online (the headset contains all the films shown in the VR Pavilion from two programmes of their choice) to pick up and watch the immersive films at home. The rental period is two to three days (i.e. Tuesday to Thursday or Friday to Sunday). Headsets can be rented for a fee of €20 (plus a €200 deposit). Whether at the Pavilion or at home, all helmets are cleaned using an ultraviolet ray disinfection device.
The programme features 360 ° films, including three Luxembourg co-productions ("Under the Skin" by João Inada - Tarantula Luxembourg; "Putain de fonction humaine" by Karolina Markiewicz and Pascal Piron - Don Pedro Productions; "Ayahuasca" by Jan Kounen - a_BAHN). Also on the programme is "BattleScar", winner of the Prize for the Best Immersive Experience at the 2020 Luxembourg City Film Festival (LuxFilmFest).
The VR Pavilion at neimënster is open to the public every day from 10:00 to 18:00 until 30 May 2021 (instead of 15 March 2021). Entry is free.
Further information is available at www.neimenster.lu.