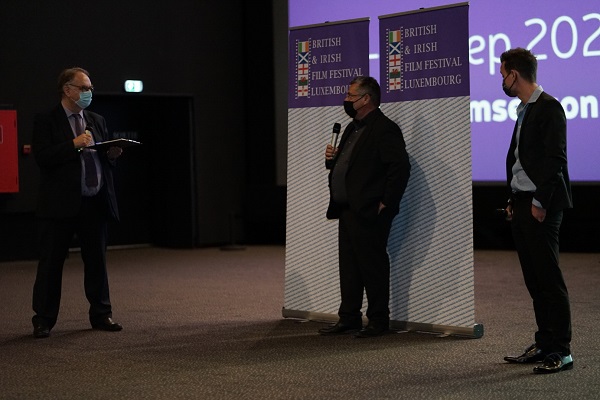 Festival Organiser Geoff Thompson with The Racer Producer Jesus Gonzalez and Actor Timo Wagner; Credit: Ali Sahib
The curtain came down on the 11th British & Irish Film Season in Luxembourg on Saturday evening with the screening of Kieron J. Walsh's "The Racer", a sports drama about a seasoned support rider coming to the end of his career at the notorious 1998 Tour de France in Ireland.
Preceding the screening were the Closing Speeches during which Deputy Head of Mission at the Embassy of Ireland in Luxembourg, Teresa Sweeney, thanked the organisers for a great festival which showcased the best of contemporary film from the United Kingdom and Ireland.
Festival Organiser, Geoff Thompson, thanked both the British and Irish Embassies, the sponsors and event partners and the volunteers (there was a huge response to the call for volunteers this year) as well as spectators for their support during these unprecedented times. In the context of the COVID-19 pandemic, Luxembourg cinemas are currently operating at 25% capacity, in order to observe physical distancing during screenings. And yet, this year's British & Irish Film Season in Luxembourg reached 50% of attendance numbers of the last two years.
This year, spectators watched fourteen features and two short films, of which eight were sold out. The programme included two Irish-language films and one in the Lithuanian language, two documentaries, two thrillers, two dramas with music, one high-tempo and one Luxembourg co-production ("The Racer"), as well as one online seminar and an upcoming film quiz, scheduled for Wednesday 14 October 2020.
Local film critic Jean-Pierre Thilges presented this year's Critic's Award: "Arracht" ("Monster"), an Irish-language historical drama directed by Tom Sullivan. Jean-Pierre Thilges and his co-juror chose the film for "its bleak but deeply humane depiction of the potato blight and its dire consequences in Ireland in 1845". Mr Thilges added that "Tom Sullivan reminds us that compelling cinema doesn't need to spend millions and millions of dollars or pounds, as long as it has a good story to tell in the most visual of styles".
Geoff Thompson then announced the winner of this year's Audience Award: "Sulphur & White", a powerful drama about child abuse directed by Julian Jarrold. The Audience Prize was won by Brian Flood, who received a giant bottle of crémant (courtesy of festival sponsor Bernard-Massard) for participating in this year's voting process.
Just before the screening of "The Racer", director Kieron J. Walsh had a short video message for spectators. He thanked the cast and crew and regretted not being able to be there in person due to COVID-19 restrictions. There was also a post-screening Q&A with two Luxembourgish talents who worked on the film: producer Jesus Gonzalez and actor Timo Wagner.
The screening of "The Racer", a co-production between Ireland, Luxembourg and Belgium, at the British & Irish Film Festival in Luxembourg 2020 marked the film's premiere in the Grand Duchy. The film is set for general release in Luxembourg on Wednesday 30 September 2020.