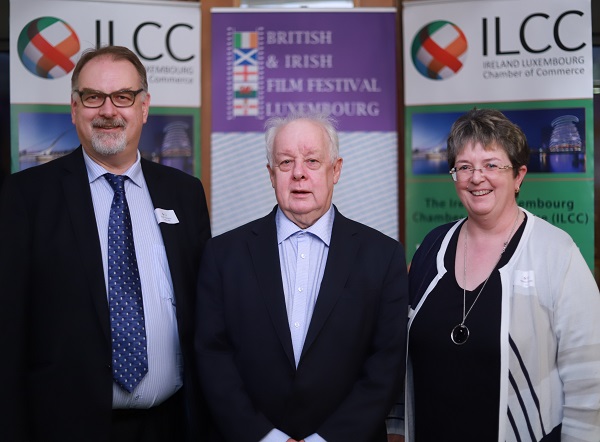 L-R: Geoff Thompson, British & Irish Film Festival Luxembourg; Jim Sheridan; Ailbhe Jennings, VP of ILCC; Credit: Ali Sahib
On Tuesday evening, the British & Irish Film Festival Luxembourg and the Ireland Luxembourg Chamber of Commerce (ILCC) jointly held the event "An Evening with Jim Sheridan" at Hotel Parc Belair in Luxembourg-Belair.
As the event name suggests, the guest of honour on this occasion was Jim Sheridan, a six-time Oscar nominee whose long and successful career as an actor, writer, director and producer has spanned decades. This event served as an opportunity to reflect on the Dublin-born filmmaker's past works as well as some of his upcoming projects, such as "In Absentia".
ILCC Vice President Ailbhe Jennings opened the event with a welcome address, in which she explained how the ILCC wanted to branch out from finance-related events to include more cultural events, in this case related to the film industry. She noted that the excellent turnout (around 60 people) reflected Jim Sheridan's enduring popularity as a film director among his many other roles.
Geoff Thompson of the British & Irish Film Festival Luxembourg then provided a brief introduction to this honorary guest. If he had to describe Jim Sheridan in a single phrase, it would be "master storyteller", Mr Thompson began. Indeed, following a distinguished career in theatre in the 60s, 70s and 80s, Jim Sheridan's films went on to receive both popular and critical acclaim. His films have gained 16 Academy Award nominations (winning two for Daniel Day Lewis and Brenda Fricker in "My Left Foot"), including six personally (as writer, director and producer). In addition, his films have spanned numerous genres from drama and historical to personal / family experience and documentary.
Jim Sheridan: My Life in Film
Following the introduction, Jim Sheridan gave an informal presentation on his life in film. He first talked about the emotions that each film drags up, joking about the frustration of winning awards with his first few films and then not winning any for the following fourteen at the Oscars. He added that the US film industry is a "crazy business" unless you are used to the system, before touching on the challenge of raising finance for filmmaking. He later described the US film system as "very powerful" with lots of money involved. "You're the biggest guy in the world one day then the next day you're nobody", he said.
Jim Sheridan continued: "Each film produces mad emotions". He gave the specific example of "In the Name of the Father" (1993), which he referred to as his "grown up film" since he produced and directed it. He added that production of the film had been facilitated by the fact that cast member Daniel Day Lewis "had become a big star" and thus, raising money proved less challenging. Jim Sheridan also stressed the importance of audience response which can make or break a film. In this context, he emphasised the need to understand how to position and open a film and to understand one's target audience "so that it doesn't get murdered in the first ten minutes". Taking the example of his film "The Boxer" (1997), he noted that certain elements can be lost to different audiences, for instance an Irish person may understand the Northern Irish conflict, but people outside of that society may not. In this regard, he began to think of films not only as a myth or a narrative but also as spiritual; he maintained that one's belief system is "probably the most important thing when making a film". After quoting the poet Samuel Taylor Coleridge on the willing suspension of disbelief, Jim Sheridan continued: "If it clashes with your belief system, you won't believe it". Hence the need to take into consideration different audiences with their different belief systems.
Jim Sheridan added that it was important that directors do not interfere too much in an actor's performance, lest they risk weakening it by adding their own belief system. In this context, he recalled that "acting is about removing all personality. […] Actors shouldn't tell you they're sad, they should just be sad".
Returning to his Irish roots, Jim Sheridan explained how the Protestant/Catholic divide played a big part in his approach to films. He added that a similar divide could be seen in the US, namely between the red and blue states. He recalled that he grew up in Ireland before taking drama to England, where he found it difficult to succeed, so he and his wife Fran moved to Canada and then the US in 1981 to start over. In New York, he joined a group of other Irish actors trying to make it big. Discussing his childhood and its influence on his filmmaking, Jim Sheridan referred to conflict with his own father as inspiration for "In the Name of the Father", whilst "My Left Foot" was based more on his relationship with his mother, whom he described as "an amazing woman" who had worked north of the border and had been taking in refugees from the north since 1967.
An Interview with Jim Sheridan
Geoff Thompson of the British & Irish Film Festival Luxembourg then proceeded to interview Jim Sheridan on his film career and future projects.
Actor
Geoff Thompson began by introducing Jim Sheridan's career as an actor, during which he has played in films such as John Boorman's "The General" (1998), as well as Mary McGuckian's works "Words Upon the Window Pane" (1994), which was actually filmed in 1993 in Luxembourg, in which he portrayed Jonathan Swift, and "The Bridge of San Luis Rey" (2004), in which he played the King of Spain. In both of McGuckian's mentioned films, Jim Sheridan starred alongside Geraldine Chaplin.
In this context, Geoff Thompson asked: How did these two roles, in particular, come about, both involving Mary McGuckian and Geraldine Chaplin?
Jim Sheridan replied that he knew Mary McGuckian from before. He described her as "very smart, the best producer in Ireland. [She] could get money out of a stone". He joked that he had been nominated for Oscars so perhaps the other actors thought he could actually direct. However, his mother's laughing at him in a wig in "Words Upon the Window Pane" initially put him off playing the Spanish king in "The Bridge of San Luis Rey". However, when Mary McGuckian mentioned there would be an all-star cast (including Robert De Niro and Kathy Bates), he quipped: "Well if you get them, I'll do it". He later added that he and Robert De Niro remained good friends although he never had a chance to direct him.
Writer
Turning to Jim Sheridan's career as a writer, Geoff Thompson listed some of the former's many films and asked: Can you please tell us how you came across the original scripts and got the rights to write the screenplays?
In response, Jim Sheridan said that it varied depending on the film. For instance, "My Left Foot" was based on the short novella of the same name by Christy Brown, an Irish writer and painter born with cerebral palsy. Jim Sheridan referred to the story as "perfect material for a film". Indeed, he had already met Christy Brown and had an idea of who would play him: Daniel Day Lewis. He added that today filmmakers would need to cast someone with cerebral palsy but that was not the case in 1989 when the film came out.
Discussing "In the Name of the Father", Jim Sheridan recalled that it had been based on Gerry Conlon's book "Proved Innocent", although he added his relationship with his own father to the story. "It had to hurt a bit when writing", he said. He added that "In America" had also been based to an extent on his own life.
On the subject of "In America", Geoff Thompson asked: How autobiographical is "In America"? Here you collaborated with your daughters in the writing – how did this come about and how was the experience of working with family? Did they remember different anecdotes which they wanted to include?
Jim Sheridan replied that the involvement of his children in the writing process was down to his wife Fran's influence. On a more serious note, he said that their contribution helped centre the film more on the children than on the father. In this way, it helped add perspective and depth to the what could have become very one-dimensional characters. He explained: "Writing about yourself is a bit like painting without perspective. And sometimes there's no depth to it". He added that the key was to "put everyone in one person, put them in a pot, don't let them escape, turn up the temperature until the pot is hopping […] and that's your character". In this way, he turned himself into his father and his oldest daughter into him in "In America". Jim Sheridan added that the scene with the ET doll game really happened although he altered it for the film. He concluded that a good, even genius writer can write and re-write, invent and re-invent themselves many times.
Geoff Thompson then asked: What attracts you to a particular story? Is it that you feel that this is a story that has to be told, or do you feel that you can tell it in a unique way?
In response, Jim Sheridan confirmed that "it has to be a story you really want to tell", although he admitted that in the case of "In the Name of the Father", he was initially put off by the name "Guildford Four" (on whom the story is based) which he felt "dehumanise the victim by putting a number on them". He added that whilst the stories of each of those four wrongly convicted individuals were equally important, he felt that the story of Gerry Conlon and his father best fit the makings of a good film. "It's the theme rather than the story [that] adds up to a film as much as plot doesn't add up to story). A film doesn't add up to anything unless there's an underlying theme, […] beyond just a narrative", Jim Sheridan said.
Director
Moving on to Jim Sheridan's career as a director, Geoff Thompson asked: You have directed a number of renowned actors: what was it like working with Richard Harris, in "The Field", Daniel Day Lewis, in "My Left Foot" (1989), "In the Name of the Father" (1993) and "The Boxer" (1997), and Vanessa Redgrave in "The Secret Scripture" (2016)?
Jim Sheridan joked that "Harris was nuts and Redgrave was nuttier. Daniel was not nutty until a certain point". He added that his first experience with Daniel Day Lewis was "so profound and amazing that it's a love affair".
To illustrate, Jim Sheridan shared an anecdote of when they were casting the children in "In America" and had to get photos of them at home. Jim Sheridan turned away pictures from some of the best photographers in Ireland, before asking the parents to take the photos: "Kids relax and light up because they know the love coming from behind the camera". He took this example to illustrate the importance of the emotion behind rather than in front of the camera. For instance, "you sometimes deal with actors who didn't get on with their dad and then they dislike male directors" or actors who had a troubled relationship with their mother and so dislike female directors and so this requires a different approach, he explained.
Jim Sheridan went on to reflect on some of the drama that arose while working with Richard Harris, for instance changing the script in "The Field", although they achieved the results in the end. Speaking about Daniel Day Lewis, Jim Sheridan described the actor as being "in another league than everyone". He added: "he could do anything he put his mind to [and then] it was difficult to change his mind". Jim Sheridan similarly referred to Vanessa Redgrave as "a genius actress" although he felt that playing a woman whose child had died might have taken its toll on her.
Concerning casting, Geoff Thompson asked: Regarding Sarah Bolger and Emma Bolger, in "In America" (2002) – how did you cast them and did they remind you of your own daughters at that age?
Jim Sheridan replied that his daughter Kirstin was helping him with the casting when they saw one child, then 5-year-old Emma Bolger, who looked a lot like Kirsten when she was younger. They asked Emma to read the script and she read it perfectly. However, Jim Sheridan decided to ask another child to read the lines – until Emma came up to him, tugged on his coat and asked: "Is she reading my part?" Not wanting to "break her belief system", he cast her in that moment. He said that Emma then told him to give the other part to her sister (Sarah Bolger), who was only ten although the part called for a fourteen-year-old. However, Sarah also read her lines perfectly and so Jim Sheridan rewrote their ages in the script.
During production when Sarah asked Jim Sheridan not to swear in front of her younger sister, he offered her the chance to take over and say action; Emma was in charge of saying cut. Jim Sheridan recalled that the girls learned everything about the set and different camera lenses so quickly. He explained: "Movie sets are weird places for kids because they become your age. They're both 5 and 50 at the same time. You have to be very protective of them".
Producer
Concerning Jim Sheridan's experience as a producer, Geoff Thompson began by explaining how producing is a completely different job in the film industry. On the one hand, it involves convincing people to part with money and on the other, it means working as a Project Manager to ensure that all aspects are covered, from crew and equipment, to shooting locations and permissions, to catering and the like.
In this context, he asked: One particular film, Shelter Me: Apollo House, which we screened at the British & Irish Film Festival Luxembourg in 2018, is a documentary about homelessness. What made you get involved in that project and how did it come about?
In response, Jim Sheridan explained how he had met someone who had the idea of occupying a government building: Apollo House. "The Irish state was the biggest landowner in the world in 2008 and it still is", he said, adding that the worsening homelessness situation in Dublin became a "shock". They decided to equally "shock the system by taking over the building" in response to this worrying development. He referred to the occupation as "mischievous but probably a necessary thing to do". Jim Sheridan described the amount of support the initiative received as "shocking and overwhelming" with some 5,000 people in front of the building and €3,000 raised over a day or two. He added that the Irish political party Fianna Fáil "unfortunately didn't learn the lesson of Apollo House". Concerning filming specifically, Jim Sheridan stressed the importance of documenting the fact that those behind the movement had all the required health measures in place.
On a similarly political note, Jim Sheridan spoke of certain politicians' claims that they would stay at home over the next two weeks due to coronavirus. He said the could broadcast their ideas on YouTube and other platforms and joked that "everyone will listen to you because no one is going out for the next two weeks!". This brought him to the topic of Radio Luxembourg, which in turn led to Radio Caroline (named after President Kennedy's daughter), which was created by his friend Ronan O'Rahilly, the grandson of Michael O'Rahilly, a key figure during the Easter Rising in 1916. Jim Sheridan explained how Ronan O-Rahilly had the idea that radio could revolutionise England. He concluded that people could do that today with TV.
Q&A Session
The floor was then opened to the audience for a Q&A session.
In response to a question on the differences between the film industry today and when he started around 30 years ago, Jim Sheridan recalled that the US has been the "dominant force" in the world's markets and that this has not changed. He added that this may change in the next five years or so with the growth of China. He also recalled that in the past, "European countries together add up to a slightly greater population than the US but the latter had a common language (English) and so their market dominated". He added that the film industry "works because of money and the art follows". Jim Sheridan also provided some examples of how a film's success requires "being branded in the US". "Marketing is more important than the making", he explained. He warned, however, that this often leads to just one single US story being told and can be destructive to independent films.
Jim Sheridan added that immigrant filmmakers and actors (Jews, Italians, Irish) had contributed to the creation of the so-called "American Dream" by creating films which allowed them to integrate into US society. He added that "Americans love royal family stories" and that the Camelot invention allowed a Catholic (with Irish roots) to be elected President (Kennedy) in the 1960s, which until then had been "unthinkable".
Other questions included: Which film in which you have been involved as an actor, writer, director or producer, has given you the most satisfaction?, to which Jim Sheridan replied that "My Left Foot" had changed his life: it got him Oscar nominations and led to him earning 20-times more money than before.
Geoff Thompson then asked: Do you prefer the acting, writing, directing or producing the most? Or do like to be involved in all stages of a project, from conception to seeing it on the big screen? Here, Jim Sheridan quipped: "The truth is I hate all of them. […] If I have to do it right, it has to be a bit painful". He described writing as difficult because it has become more language-based as opposed to the oral tradition of fireside stories. He also mentioned the challenge of raising finance and directing, the latter having both "moments of transcendence [and] slog": "It's a marathon". He added that "auditioning may be best part as you find out what you're going to do". Similarly, he described editing as relatively easy as you are "retelling the story on your own". He concluded: "Each has a neurosis attached to it".
On another question on digital cameras, Jim Sheridan explained that: "Digital doesn't have that magic that old films had". On a potential career in television, he said that he had previously been against such an idea but that times have changed, so yes, he would be interested. Taking the example of the "Sopranos", he praised the "story that's never told" of the strong woman in control of the men, in this case the mother Lydia (named after Lydia from "My Claudius"), who never gets any credit.
Future projects
Turning towards the future, Geoff Thompson asked: Excluding projects already in the pipeline, which other story would you most like to tell? Do you have any particularly amusing anecdotes from your time on set, or even in the throes of producing?
Speaking specifically about his upcoming documentary "In Absentia", which tells the story of English journalist Ian Bailey who was convicted in absentia by a French court of murdering Sophie Toscan du Plantier, Jim Sheridan explained that this was his "first big documentary". He added that he himself was unsure as to the innocence or guilt of Ian Bailey and that was a mindset he tried to maintain. In any case, the incident made him question the legal system. Indeed, when Ian Bailey took the police to court for allegedly wrongly arresting him, the trial "descended into a trial of him" and there was a lot of suspicion concerning the actions of the Garda. Only after 62 days in court did the defence (the State) ask if it was a case on the nine charges or statute barred (which applied to 7 or 8 of the charges). Jim Sheridan recalled that the trial "cost the state millions and destroyed Ian's case". He went on to stress the importance of a scapegoat for "the proper functioning of society" since "people need an end to the story". Nevertheless, Ian Bailey's story continues.
The event closed with a networking cocktail.