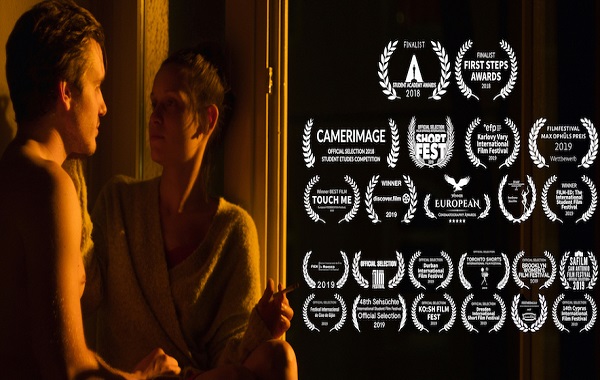 "Touch Me"; Credit: PTD
Paul Thiltges Distributions has announced that Luxembourg-born director and screenwriter Eileen Byrne's short film "Touch Me" ("Was Bleibt") was named "Best Film" at the 2020 edition of the European FEEDBACK Film Festival in Toronto, Canada.
Eileen Byrne's short film "Touch Me" has continued its winning streak at international film festivals. Most recently, it picked up the Best Film award at the European FEEDBACK Film Festival in Toronto.
Since its release at the end of 2018, the film has been selected for the Oscars (Student Academy Awards 2018) and nominated for the best German graduation films (First Steps Awards 2018). It went on to travel around the world (Palm Springs, Karlovy Vary, Huesca, New York, Max Ophüls, etc.) and now counts 42 nominations and five awards.
Eileen Byrne is set to continue her collaboration with Luxembourg-based film production company Paul Thiltges Distributions, with whom she is developing her first feature film. The children's film "Bille & Zottel" has received scriptwriting support from Film Fund Luxembourg. The film is being developed as part of a Luxembourgish and German (Georg Prokop, Filmfee) collaboration and last week it was selected, alongside five other films from Belgium, Iceland, Norway, Slovenia and Netherlands, to take part in the CinéKid Lab, taking place in Amsterdam in April 2020 and organised by the prestigious children's film festival CINEKID.
"Bille & Zottel" will be based on a series of 21 books published between 1976 and 2008, written by the German author Tina Caspari (Rosemarie von Schach), which were very popular in Germany, Austria, Netherlands, Slovenia and many other countries. It is the story of a friendship between a 12-year-old girl, Bille, living alone with her mother in a small village in Germany, and the pony Zottel, whom she rescues from an oppressive ring master who wants to sell the animal to a butcher.