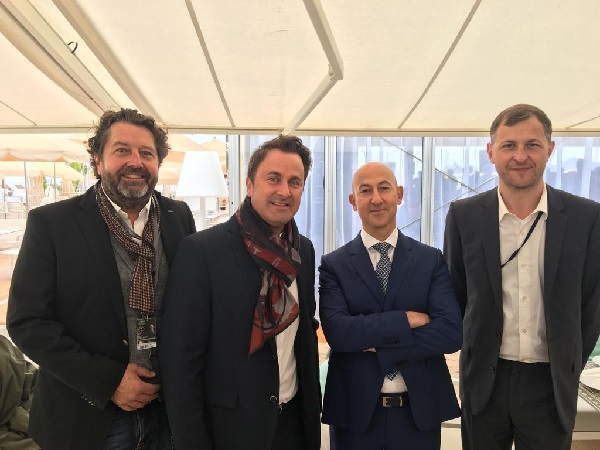 L-R: Guy Daleiden, Director of Film Fund Luxembourg; PM Xavier Bettel; Olivier Henrard, Director General of the CNC - France; Mathieu Fournet, Director of European and International Affairs of the CNC - France; Credit: Film Fund Luxembourg
From 17 to 19 May 2019, Luxembourg Prime Minister and Minister of Communications and Media, Xavier Bettel, travelled to Cannes to meet professionals from the film production sector and to participate in the traditional Luxembourg day.
On this occasion, the Luxembourg Prime Minister inquired about the evolution of the sector for which he expressed support: "I welcome this year's quadruple selection of Cannes and I salute the commitment of all Luxembourg professionals. I am proud that our filmmakers are internationally recognised, demonstrating the know-how, professionalism and dynamism of our art industry."
Similarly, Xavier Bettel appreciated that the sector is ready to diversify by embarking on new technologies, especially virtual reality (VR) co-productions that were also present in Cannes (Cannes XR). Indeed, he has the opportunity to discover the three VR works presented on the Luxembourg pavilion ("Ayahuasca", "7 Lives" and "Fever").
As part of the traditional breakfast of Francophone co-productions, bringing together the partners of five countries (Luxembourg, Belgium, France, Switzerland and Canada), the Prime Minister discussed the future French-speaking co-production meetings to be held in Luxembourg next November with the main French (CNC - Centre national du cinéma et de l'image animée), Belgian (Centre du Cinéma et de l'Audiovisuel – Fédération Wallonie – Bruxelles) and Swiss (Office fédéral de la Culture) representatives. Xavier Bettel also met with Nathalie Roy,Minister of Culture and Communications of Quebec, at the Luxembourg pavillion to discuss the good relations between the two countries in terms of culture, communications and the French language.
In addition, Guy Daleiden, Director of Film Fund Luxembourg, and his Irish counterpart James Hickey (CEO Screen Ireland) signed a new agreement, in the presence of Xavier Bettel and Patricia O'Brien, Irish Ambassador to Paris, to support the co-development of projects written and/or directed by women with the aim of increasing female representation in the filmmaking industry. Following the signing of this agreement, the Luxembourg Prime Minister presented the Oak Crown Officer Medal to James Hickey, thus honouring the excellent bilateral relations he has developed with Luxembourg.