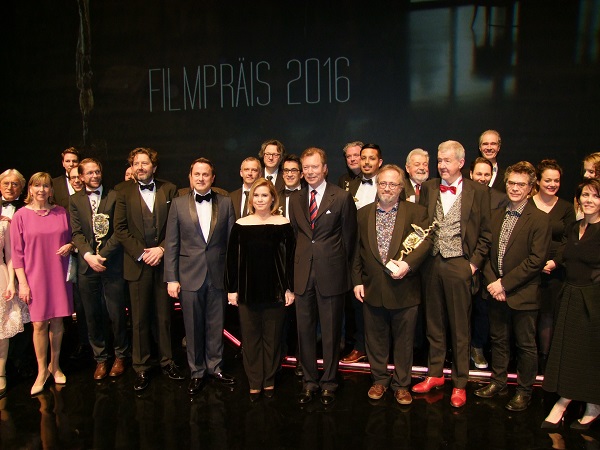 On Saturday evening, the 7th edition of the Luxembourg Filmprais was organised by d'Akademie and Film Fund Luxembourg at the Grand Theatre de la Ville de Luxembourg in the presence of HRH Grand Duke Henri and HRH Grand Duchess Maria Teresa, with Samsa Films' Eng Nei Zait taking home three awards.

In a glitzy show compered by Eugénie Anselin and Claude Frisoni, the former director at the Anbaye de Neumunster, a total of eight prizes were awarded at the ceremony which is held every two years in the Grand Duchy.
The event commenced with a Luxembourg male choir on stage, followed by a video collage of various people of different nationalities, all of who make films in Luxembourg, emphasising the multi-culturalism and diversity of the Luxembourg film industry. Pascal Schumacher performed on the piano between awards, accompanied by a quartet to of musicians.
The opening dialogue, primarily in French, poked fun at the various current and former politicians in the audience, as well as those involved in the film production business here, including plays on words in French and making references to various films in the process.

The Winners:

- Best Animation Short Film: The Light Eater, directed by Sean McCormack of Fabrique d'Images

- Best Fiction Short Film: Quenottes, directed by Pascal Thiebaux and Gil Pinherno of Zeilt Productions, represented by Laurent Witz

- Best Technical Contribution: Jako Raybaut, for Eng Nei Zäit

- Best Artistic Contribution: Luc Schiltz, actor in Eng Nei Zäit

- Best Documentary Film: Black Harvest by Jean-Louis Schuller and Sean Clark of Antevita Films

- Best Animation Feature Film: Song of the Sea, directed by Tomm Moore with Melusina Productions (collected by Stephan Roelants)

- Best Co-Production: Le Tout Nouveau Testament directed by Jaco Dormael, by Juliette Films (David Grumbach, producer)

- Best Luxembourg Film: Eng Nei Zäit, directed by Christophe Wagner, of Samsa Films (produced by claude Waringo)

The list of nominees included a total of 9 short films, 16 co-productions, 4 Luxembourg feature films, 9 documentaries, 3 feature films and 3 animated short films which all competed for the coveted trophy. In total the Academy had selected 30 nominations, including 14 for the prize for best artistic contribution and 16 for the prize for best technical contribution. For the full list, click here.

As in the previous edition, the awards were decided by professionals from the film industry who are members of the "Filmakademie". All industry professionals were eligible to join the Academy as an associate member and vote for the Filmpräis.
The awards presented were statuettes featuring a facial profile outline created by Luxembourgish artist Patricia Lippert after she won the right to design the trophy in a 2003 competition.
For full details (on Facebook), clcik here.

Photos by Geoff Thompson