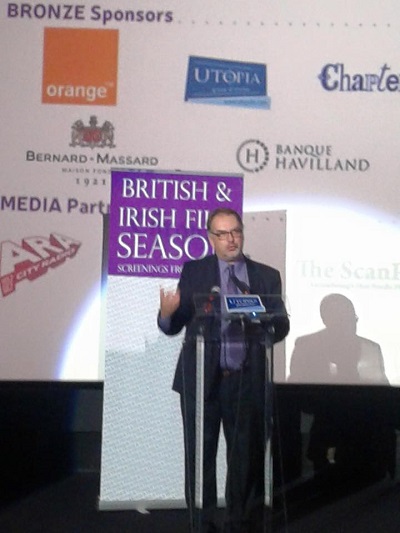 On Monday evening, the 6th annual British & Irish Film Season got off to a flying start at Utopolis in Luxembourg-Kirchberg.
Prior to the screening of Strangerland, starring Nicole Kidman, Ireland's Ambassador to Luxembourg, Peadar Carpenter, addressed the audience and welcomed everyone to the festival.
Geoff Thompson, festival organiser, thanked the sponsors and partner organisations. He annoucned that there woudld be 18 screenings over 12 days with films from Ireland, England, Scotland and Wales and representing various genres, from comedy and suspense thrillers, to doucmentaries, animation and drama.
He also referred to other festival initiatives, including the Young Journalist Competition, the Writing Masterclass and the awards, with this year the ALPC (Luxembourg film critics association) awarding a prize, as well as the audience, with those participating in the latter being eligible for the Audience Prize where one lucky winner will be drawn to receive a return flight for 2 to LondonCity or Dublin.
He announced that special guests (actors, directors, producers) would be attending screenings and participating in Question & Answer sessions every evening of the festival apart from the Opening and Closing nights.
He declared the 6th annual British & Irish Film Season OPEN and the audience sat back and watched the opening screening, Strangerland, a suspense drama featuring a family in Australia whose two children go missing and the attempts of their parents, the police and townsfolk to establish what happened and to find them before it is too late. The film featured very strong performances by Nicole Kidman, Hugo Weaving and Joseph Fiennes, as well as superb cinematography.
Tuesday's films include Scottish Mussel at 19:00, a romantic comedy with an environmental message, in the presence of Talulah Riley (writer, driector & actor), followed by Simon Pegg in Man Up at 21:30.