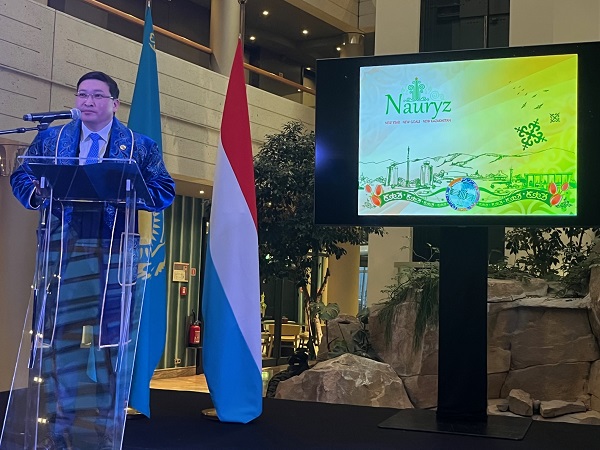 Ambassador Margulan Baimukhan; Credit: Geoffrey Thompson
On Friday 25 March 2022, the Honorary Consulate of Kazakhstan in Luxembourg organised a celebration of Nauryz in the Grand Duchy.
Nazurz is celebrated in Kazakhstan on 22 March; this is when the spring equinox happens and spring comes fully and brings with it new life and new happiness. In Kazakhstan, people welcome each other, visit their families and friends, pay respect to their elders, give gifts to children, share meals and joy.
Nauryz teaches peaceful co-existence, love to humanity and appreciation of the community. This year it is not being celebrated with big festivities while victims of January 2022 in Kazakhstan are still remembered. However, in 2023, the Kazakh community hopes that next year they will have all the reasons to have a bigger celebration, not just in Luxembourg.
Friday's event took place at the Hotel Sofitel Luxembourg Europe in Luxembourg-Kirchberg from 18:20 - 21:00 and was hosted by ERG's Chief Executive Officer, Benedikt Sobotka, who is also the Honorary Consul of the Republic of Kazakhstan in Luxembourg, together with the new Ambassador of the Republic of Kazakhstan to Belgium and Luxembourg, His Excellency Margulan Baimukhan and his spouse Guldana Zhailau.
Ambassador Margulan Baimukhan said that he was delighted to be able to celebrate Nauryz in Luxembourg, reflecting renewal and fertility. He said that the tradition of Nauryz allows us to celebrate in harmony. He referenced "brothers and sisters" in central Asian and Turkish regions, and extended his gratitude to the Honorary Consul in Luxembourg, Benedikt Sobotka, for their support in putting on this celebratory event. He introduced the cultural and culinary parts of the evening and spoke in Kazakh to the Kazakh nationals that were in attendance.
Honorary Consul Benedikt Sobotka unfortunately was unable to attend due to business travel commitments.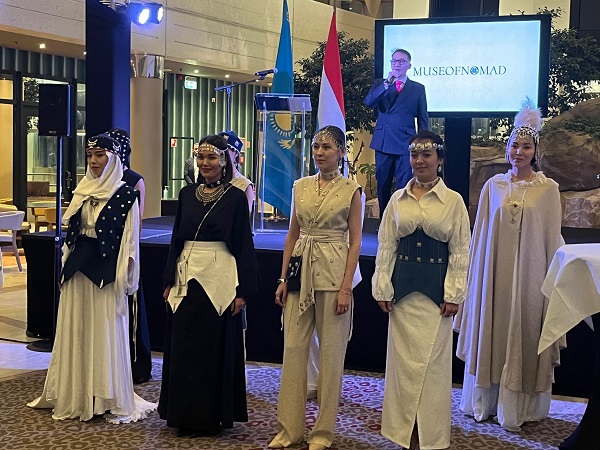 Around 80 people were in attendance, a similar number to those who attended the Nauryz celebrations in Brussels the previous evening. The Luxembourg Nauryz attendees enjoyed a walking dinner of traditional Kazakh dishes, with some European dishes too, to the sound of traditional Kazakh music and song in the background, also with a large screen depicting a Kazakh artist sand-painting.
Also included in the evening's entertainment were a number of fashion designers from Kazakhstan who, in addition to showing off their creations (inspired by their nomadic culture) via the large screen on stage and on eight young women modelling costumes, also showcased primarily fashion accessories and jewellery in an exhibition in the Sofitel's foyer which included copies of their new magazine portraying their creations.