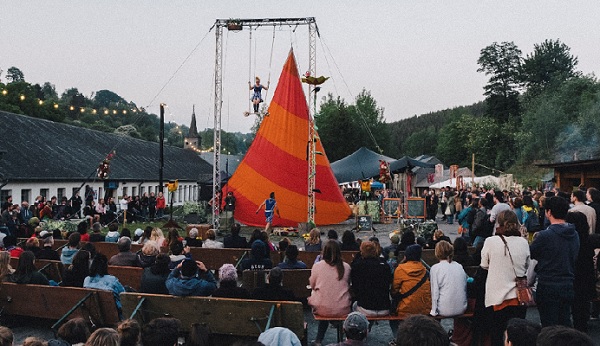 The line-up for this year's "Koll an Aktioun" festival, taking place on 8 and 9 June in Haut-Martelange in Luxembourg, has been announced.
In addition to well-known national musical acts such as C'est Karma or Serge Tonnar & Legotrip, international artists such as Orchards and Coely will be performing at this family-friendly festival in Luxembourg. A "Secret Guest" will also be introduced shortly before the event.
The full line-up includes Luxembourg artists Pol Belardi Standards Trio (Jazz), C'est Karma (Pop), Dj Blueprint, LEEN (Pop Rock), Scavenger's Lunch (Melodic Punk Rock), Serge Tonnar & Legotrip (Folk), Stayfou Session (Hip Hop Collective) and Them Lights. International acts include Belgian hip hop artist Coely and Indie Rock Pop band Intergalactic Lovers, Austrian artists Steaming Satellites (Indie/Alternative/Space Rock), Naked Cameo (Pop/Electronic) and Ankathie Koi (80s Pop) and German artists Il Civetto (Pop/Swing/Folk), lgen-Nur (Pop/Indie-Rock) and Umme Block (Trip Hop – Electro pop). The festival will also welcome Swedish Indie-Rock artist Linn Koch-Emmery, Swiss group Blind Butcher (Wave Disco Punk), French/Balkan folk band La Fanfare Couche – Tard and UK band Orchards (Math Pop).
This year's visitors will once again be spoiled with food from the festival's own garden. As is tradition, visitors will be invited to a vegan brunch on Sunday, in co-operation with Cédric from the restaurant OAK. Culture enthusiasts will also get their money's worth on the Whitsun weekend, whether in the ARToase (an exhibition by eight artists) or this year's Creators Market with products by local designers. Thanks to the cooperation with the Slate Museum and the municipality of Rambrouch, visitors will have the opportunity to take part in guided tours of the museum, as well.
The family programme has been extended to two days for this edition so that the youngest visitors as well as their close ones can take part in various activities. These include creative age-specific workshops, as well as street animation, a fun activity with giant wooden turtles or the Animalium with impressive stories about long extinct animals.
On both days, visitors have the opportunity to travel to the festival by shuttle bus. There will be two lines: one via Camping Fussekaul towards the city centre (terminus: Luxembourg Gare), the other via Arlon to Bettembourg. The directions and departure times can be found online (see below). Parking at the festival site costs €2 for cars with one to three persons and is free for cars with four to five persons. The Kollidays will also give visitors the opportunity to explore the region on e-bikes along the old Jhangeli route as they arrive at the festival.
Tickets cost €10 per day (pre-sale) or €18 for a weekend ticket (pre-sale). Box office tickets cost €15 for one day or €25 for two days. Kulturpass tickets cost €1.50. Under-15s go free.
The whole line-up as well as practical information, including ticket sales, are available online at www.kollanaktioun.lu.