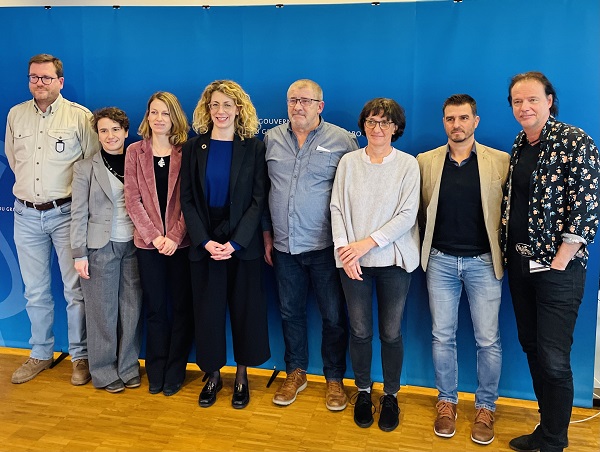 Credit: MECDD
At a press conference on Thursday 2 February 2023, Luxembourg's Minister of the Environment, Climate and Sustainable Development, Joëlle Welfring, presented the new national plan concerning the protection of nature.
The third national plan concerning the protection of nature (PNPN3) was established in accordance with articles 47 and 48 of the amended law of 18 July 2018 concerning the protection of nature and natural resources. The process included a public consultation (254 responses received) as well as consideration of the opinion of the Natural Environment Observatory and the proposals of the Citizens' Climate Council (Klima-Biergerrot).
The final document includes other national commitments, including the objectives defined in the global biodiversity framework of Kunming in Montreal, as well as the European Union's (EU) biodiversity strategy for 2030.
"It's about nothing less than protecting our natural capital. Nature provides us with a vital service and protecting it is an absolute necessity. We dedicate ourselves to this necessity with our national nature conservation plans. I am all the more looking forward to being able to launch PNPN3 today," said Minister Welfring.
The Ministry of the Environment, Climate and Sustainable Development noted that despite its small surface area and the absence of ecosystems and marine or mountain habitats, the Grand Duchy boasts considerable biodiversity and varied landscapes, resulting in an important geological and microclimatic diversity. According to the ministry, the challenges to conserve nature in Luxembourg are important and require immediate measures on the ground, in the face of alarming developments. For example, the occupation of the soil in Luxembourg is clearly higher than the European average, Luxembourg is the most fragmented country in Europe, and the butterflies and birds of open environments are in a strong regression.
The PNPN3 determines the actions to be implemented and the quantifiable measures to be achieved in the mid-term (before 2027) and at the end (2030) of this plan and defines how Luxembourg will contribute to the achievement of European objectives.
Based on the structure and content of the EU's biodiversity strategy for 2030, the PNPN3 is structured according to the following four pillars: protection (targets the network of protection zones); restoration (of the most degraded habitats and ecosystems and on the reactivation of the ecosystem systems provided); transformative change (cooperation between actors); international commitment (biodiversity at the international level).