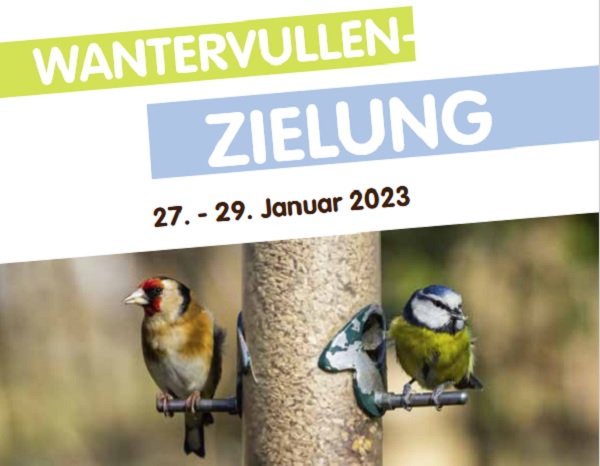 The natur&ëmwelt nature conservation society has confirmed the dates of the traditional winter bird count (Wantervullen): it will take place over the last weekend of this month, from 27 to 29 January 2023; this will be the 17th edition of the annual winter bird count.
The stocks of frequently occurring species in settled areas can be estimated through the annual counting campaign. Population trends, such as increases or decreases over the years, can be seen. The main focus of this counting campaign is on bird species around the house and garden, such as blue tit, sparrow and blackbird. In addition, the target is also an important awareness campaign by natur&ëmwelt: at bird feeders, for example, garden birds can be observed particularly well, which makes it possible to get to know various bird species and to get to know nature in general.
Participants are invited to observe and count the birds in one's garden or on one's balcony for an hour on the last weekend of January, and to write down all bird species and the number of each. An online form including counting instructions and a photo catalogue of the most common bird species is available on the natur&ëmwelt website (www.naturemwelt.lu).
School classes are encouraged to take part in the campaign. If desired, teachers can request the participation forms and related teaching material from natur&ëmwelt. For additional information, suggestions for lesson planning and to order flyers, teachers can contact the secretariat (Tel: 290404-1, email: secretari-at@naturemwelt.lu).
This is an important concern because, not only is our biodiversity declining, but so is the general population's knowledge of native species. According to a study published by the University of Munich in 2018, children and young people only know five out of 15 common songbird species on average. Since it is known that one can only appreciate and protect what one knows, it is of great importance to increase the general population's knowledge of species again.
What will the situation be like this year? Help natur&ëmwelt to find out!
In 2022, the great tit visited 88% of Luxembourg gardens on the weekend of the winter bird count and was therefore the most common species. The blackbird was just behind it and was observed in 84% of the gardens. Other frequently encountered species were the house sparrow (78%), the blue tit (77%) and the robin (71%).
At the end of the campaign, 10 winners will be drawn from all participants. The registration deadline for participation in the raffle is 7 February 2023.